Indian Super League
ISL champs Chennaiyin FC reaped rewards of a fierce focus on fitness, says Sports Scientist Niall Clark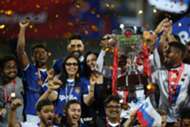 Chennaiyin FC, without doubt, were one of the fittest teams in the recently concluded Indian Super League (ISL) season. It was probably one of the major reasons why they lifted their second title in four years earlier this month. 
Coach John Gregory, a stickler for work ethic in his players, put a high price on fitness and the man who helped him hone the squad was Niall Clark, the team's Sports Scientist. 
Clark feels that the manager's decision to trust him with the fitness aspect of the training paid dividends for the Marina Machans. 
"Players' adherence to the training cycle and the gaffer giving me full responsibility played a huge role (in our exemplary levels of fitness) because in the past I've seen managers change the training regime whether the team wins or loses," Clark told Goal. "But John is a modern thinking coach who wouldn't make the boys train extra hard if we'd lost. He'd accept we have a 48-hour recovery process which includes many facets.
"He also gave me charge of the travel schedule. And these are important variables."
"In his first team talk, John had said to the boys "I will make you fitter players and that will make you better footballers." And in his team talk before the final against Bengaluru when we beat them 3-2 at their home ground, he said "Remember our promise, we've made you the fittest team. Bengaluru have had more recovery time than you have, but you will score more goals and be the fitter team on the night."
"And that was evident. They picked up an injury in the final and we didn't. We had an incredible work ethic all season.  We were also one of the only teams to not recruit new players in the January transfer window. And the entire medical team did a great job. My Sports Science Assistant Robert Gilbert along with the Team Physio Rajiv Kumar Singh and the masseurs Prathmesh Jethe and Nitin Patel did a fantastic job all season. It was a team effort." 
Clark, who has worked in the past with clubs like Manchester City, Crystal Palace, West Ham United etc, feels that the physical conditioning of players in the ISL is on par with England's second-tier league, The Championship. 
"In Sports Science, we have KPIs or Key Performance Indicators; and we use GPS to measure KPIs such as distance covered, number of sprints, high intensity and acceleration/deceleration. And I can objectively say that the intensity of the game and the number of sprints has increased massively in the ISL. From an overall physical perspective, Indian football has improved.
"If I were to compare it to the level back in England – if earlier it was the League One, now it is at the Championship level," he stated categorically. 
Clark then went on to share some of the facets of his work that helped mould Chennaiyin FC into a fit and winning outfit. 
"We have guidelines and philosophies involving a periodized plan and a cycle to follow throughout the season. This enables recovery and preparation as quickly as possible. Fitness and the training sessions are at the core of what we do. In the training sessions we focus on its intensity, volume and duration. And that depends on the cycle and week we're in.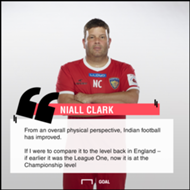 "We also look at other aspects like diet, sleep duration, when to sleep, how to travel and best time to travel. We also ensure the players recover properly through supplementation and cryotherapy like ice baths. And to prevent injuries, we do proprioceptive sessions and core sessions. The players disciplined themselves this season and set their own standards. They were fantastic, I can't speak highly enough of them." 
Clark has been involved in ISL for a few years now and had worked with Kerala Blasters and FC Pune City in the previous editions. But a close relationship with John Gregory during their time in England convinced him to move to Chennai. 
"John played the biggest role in bringing me to Chennaiyin FC. We worked together at Crawley Town and I have a very close relationship with him. I had a fantastic time before this at Kerala Blasters working with Steve Coppell, with whom I've  also worked at Crystal Palace and Reading earlier. However, the opportunity to work with John and Chennai as a place was a fantastic opportunity and I knew together we would be successful. I have thoroughly enjoyed myself, it has been a phenomenal experience.
"The owners Mrs. Vita Dani and Abhishek Bachchan gave us their full support and backing from the outset. I feel John and I have delivered on that trust. It is a family atmosphere, they give us our space and don't put us under any sort of pressure."
He went on to praise the Indian contingent at Chennaiyin FC for being receptive to his advises and methods. 
"The Indian players' fitness has seen the most improvement and it is down to their individual adherence which has been phenomenal this season. In my first season in India, the domestic players were not the most receptive to changes in diet and the different sessions we subjected them to – cryotherapy, proprioceptive sessions, core sessions etc. But this season at Chennaiyin FC, the players have been unbelievable. They're keen to learn and improve."