Indian Super League
ISL 2018-19: Eelco Schattorie - NorthEast United will try to outscore Mumbai City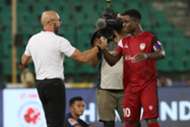 NorthEast United will be looking for their first win at home when they take on Mumbai City in the Indian Super League (ISL) on Friday. 
Head coach Eelco Schattorie is concerned with the defensive options available to him ahead of the game. Mislov Komorski could return to the team after serving his suspension but Guriwinder Singh, who replaced the foreigner in their last game, will miss out due to an injury. 
"I was thinking of asking the league to play with two goalkeepers but I don't think that's allowed (laughs). We'll find a different solution but that's not easy because our squad is not that deep, we don't have that many options.  But again that's football.
"We also have to look at our position as a team on the market. Budget-wise, I don't think we are one of the highest. Until now, we have dealt this all these situations and overcome. We have good players up front and we'll try to score one more goal than the opponent. Hopefully, that covers our defence.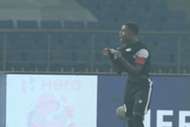 "Having said that, I think there were comments that NorthEast United had a shaky defence but at this moment, we have conceded the lowest amount of goals after Bengaluru FC. We are pretty well organized and hopefully we can continue that against Mumbai," Schattorie said. 
NorthEast United have a perfect away record in the league so far, with all three of their victories coming away from home. The team is third on the table with 11 points and having played two games fewer than second-placed Jamshedpur FC and the Dutchman is not concerned about overconfidence creeping into his squad.
"I don't think that'll (overconfidence) will be an issue. We don't have characters like that. Our bigger issue will be that in the games we played till now, we had a suspension or an injury. Against Jamshedpur, we got a red card. Against Delhi, Gurwinder got injured. For tomorrow's (Friday's) game, I have a big issue there."
The Highlanders left it late against Delhi Dynamos when Bartholomew Ogbeche and Federico Gallego scored to clinch a 2-0 win. 
"The biggest thing to overcome is our defence. Mumbai are a team completely different from Delhi. Delhi play possession-based football, that means they're in front of you. Mumbai are a team that plays more with the ball behind.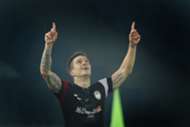 "They play their No 7 on the right and they look for deep runs. And that's a different way of defending. My biggest emphasis will be to stop that."

On giving chances to the younger players in the squad, Schattorie explained, "Redeem has played all games till now. Putia (Lalthathanga Khawlhring) came in last week at halftime and did really well. Most likely he'll start tomorrow (Friday) again.
"You never know how a young player is going to react but my philosophy is that if you don't give a chance, you also have no chance to improve.  They have all my confidence. Wherever there are mistakes,  we'll try to improve them. But overall hopefully I get back good energy and a positive attitude.
"Young or old, I don't care. We need to get those three points at home because we haven't done that yet. It'll be fantastic if we have 3 points and go into a long break."

The former Prayag United coach was asked to compare the combination of Bartholomew Ogbeche and Federico Gallego to the duo of Carlos Hernandez and Ranti Martins.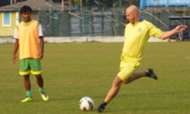 "Last week in Delhi, I was speaking to Star Sports. They were making a remark in the studio that when I was at Prayag, I had the best team in the country and I didn't do anything with the team. I was a bit insulted by that because first of all, I came halfway in the season and secondly after four games into the season, we really started to gel.
"We were unbeaten in the second half of the season. A big part of that was Carlos Hernandez who became fit because when I came, he was totally not fit. Had a big fight with him and then those two lined up really well.
"Bart (Ogbeche) is a little bit more of an all-around striker. Federico is a little bit more hardworking. So, that compensates each other. Fantastic combos. Hopefully, the two that I'm working with now can bring our team more wins together with the rest of the team of course."