Indian Super League
ISL 2018-19: Josep Gombau - Delhi Dynamos deserve more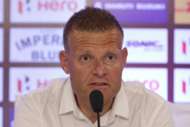 Josep Gombau's Delhi Dynamos now find themselves in the ninth place in the Indian Super League (ISL) after Chennaiyin FC got the better of Pune on Wednesday. But the Spaniard believes that the final score is not a reflection of his team's performance in most cases.
"I think we are not getting the results but we are playing well. We deserve more than what we are getting. We have an important game tomorrow that we must try to win. It is against a possession based team, Goa. I think we did well in our last game and we must try to build on it."
Delhi's previous opponent Jamshedpur was a slightly defensive team when compared to Goa who like to exploit space and attack their opponents, while always being on the front foot. Goa are one of the toughest teams to beat in the league but Gombau is confident of taking something from the game. The Spaniard also hinted that this might be a good game for the neutrals, with both teams playing possession-based football.
"Goa is a good team with a good coach. We know that it's a tough task but we have travelled here trying to take something from the game after a good game against Jamshedpur."
"It's true that Goa are very good at attacking football. If they catch us open, they can play between the lines and punish us. It will be a good game as both the teams like to play good football."
Speaking about what's gone wrong for Delhi this season, the Spaniard rued all the missed chances in the first few games but pointed out that the team was clinical against Jamshedpur. They had gone three matches without scoring prior to that.
 "We missed a lot of chances since the beginning of the season but we scored two goals against Jamshedpur. I think we need to keep this up and keep the squad inspired and we'll score more goals."
Gombau has spent three months at the club and is pleased with the team's progress and the brand of football.
"I've had a nice experience in India. The attitude of the players is very good. We're building a team that's producing. We were having some difficulties in the beginning but I think we are playing good football now."