Indian Super League
ISL 2018-19: FC Pune City look in shambles and need an inspiration sooner than later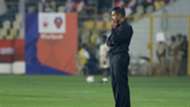 FC Pune City conceded a single goal in their season opener against Delhi Dynamos. Mumbai City FC scored two past them in the second match. Bengaluru FC and FC Goa pumped three and four in their third and fourth games. Kerala Blasters could only muster a goal while Chennaiyin FC demolished them with a brilliant second-half performance to score four.
It's fair to say that defensively, the team has degenerated as the season has progressed. Yes, they have scored five in their last three as opposed to one in the first three matches and also missed two spot-kicks, but the lack of coordination at the back is apparent.
The manner in which Adil Khan, who is among the experienced lot, gave the ball away to Francis Fernandes in the first half which allowed the winger to have a pop on goal or his failure to track Thoi Singh for the fourth goal, showed the absence of organization for Pune.
From finishing fourth last season, it seems Pune are back on track to replicate their performance from the first three editions of the Indian Super League (ISL) where they missed out on the play-offs.
They opted not to sign an extension with coach Ranko Popovic primarily due to wage demands. Enter Marcos Paqueta who signed a contract, did a press conference and chose never to return.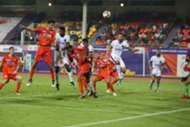 Miguel Angel Portugal was brought on board in the eleventh hour and the Spaniard was given the boot after the third match. Now they have appointed Pradhyum Reddy, the former Shillong Lajong coach, to steady the ship, a task which may prove to be implausible.
Pune will be without the services of Diego Carlos, Marcelinho and possibly Marko Stankovic for their away trip to Kolkata. Given that their Indian players too haven't been at their best, a point away from home should suffice.
In the second half, Chennaiyin FC were allowed to pass the ball around with ease and neither did Pune close them down nor were they good in defending from set-pieces despite having a lot of tall players within their ranks.
In fact it was thanks to some wastefulness on the part of Chennaiyin attackers that only four goals were scored against them.
For the away team, this point should be the point where they turn their fortunes around. After their struggles early on, to produce a comeback win should boost the morale of the team to no end. Now, it is a matter of following up on this with another victory and build on that. 
John Gregory and team certainly have the pedigree to do that.