Indian Super League
ISL 2017: Alexandre Guimaraes ecstatic after second win on the trot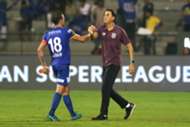 Mumbai City head coach Alexandre Guimaraes did not hide his happiness after his team thrashed Delhi Dynamos 4-0 courtesy of a brace from Everton Santos and goals from Lucian Goian and Balwant Singh. 
"We deserved the win today and we improved in many phases of our game. Finally, we performed well in standout situations. It was important for us to try to get a second win in a row for the team to have confidence. It's very good that from today on we have the whole squad ready, this is good news," said Guimaraes.
The Costa Rican coach said that getting a goal early in the game was the key to his side's win against Delhi.
"We made an impressive start, we felt that if we can get a goal before 15-20 minutes, the situation will hurt Delhi and we did score. It's not about if Delhi played bad or not, it's that Mumbai played even better."
"There's no easy match but of course when you see the match the way you want, then you are more confident that you have the possibility to win. We moved well when Delhi started to get on goal. We were much stronger at the back too. We put Leo too as he's an important player for us too. We made the game go in the way we wanted," explained Guimaraes.
The former Costa Rican international believes that the two red cards to Sehnaj Singh and Matias Mirabaje were justified. "Both red cards were fair. I haven't spoken to Sehnaj as it isn't the moment yet. We have some days now for our next away match, we will talk to him. He's just come back from suspension and now this happened but he's a player who is important and someone I have trust in."
Guimaraes was also pleased with the performance of Balwant Singh, the 31-year-old striker from Hoshiarpur. "Balwant is a very competitive player. He's important because he sometimes plays upfront or on the flanks. He's on fire. He's a very good striker," commented the head coach.
He signed off by expressing his condolences for the victims of the Kamala Mills fire. 
"I want to express my condolences to the families who have suffered in the situation (Kamala Mills fire). Happy new year, too," he concluded.