Indian Super League
ISL 2017-18: Vladica Grujic - Everything is going well for FC Pune City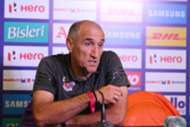 FC Pune City outclassed reigning champions ATK 3-0 tonight in a crucial Indian Super League (ISL) tie in Pune. Adil Khan, Diego Carlos and Rohit Kumar scored for the home side to secure a convincing win.
The Stallions were in control of the game from the very beginning and looked confident. They created several chances and capitalised perfectly. ATK, on the other hand, were clueless in the attacking third and lacked firepower upfront.
Speaking about the match, Pune City assistant coach Vladica Grujic said, "It was a good game. We found a way out to win. Everything is going well for us. We want to play quality football. We want to show the fans a good game. We don't want to play long balls."
On asked if the introduction of two new foreign players (Marko Stankovic and Manuel 'Lolo' Toribio) has increased the strength of the side, Grujic replied in the affirmative.
"We have more quality players in our squad now. Marko Stankovic and Lolo are on our side now and two foreign players make a difference," he said.
On Ashqiue Kuruniyan, who has been a brilliant so far for the team this season, being ignored today, the assistant coach said, "Ashique is a very important player for us. He is growing slowly. He had a slight injury today but we expect him to come back."
Adil Khan scored his fourth goal of the season with a brilliant header tonight. The midfielder has been in stellar form and his versataity saw him deployed at right-back.
On Adil's performance, Grujic said, "I am not at all surprised that Adil Khan has scored four goals in the tournament because the first day we saw him we knew he had the quality."
Vladica complimented opponent ATK and suggested that the team from Kolkata played quality football. "Even though we won 3-0, ATK played very good football. They have good quality players in their side," he stated.
The assistant coach also confirmed that Marcos Tebar is back in the team from injury. "Marcos Tebar is back. He is training again with the team. After tomorrow we will see when he can come back to the team," Grujic said before signing off.