Indian Super League
ISL 2017-18: NorthEast United's Avram Grant wants more foreign players in first team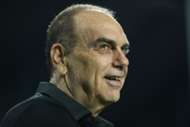 NorthEast United head coach Avram Grant talked up the changes he made to the Highlanders since he took charge midway through the season. The coach, speaking ahead of his team's match against Kerala Blasters, stated the need for more football academies in India.
"To be honest, it is one of the most strange seasons I have ever had. You know what happened in the first half of the season, then we improved," began Grant. "We went from a team that depended on counter attacks to a team that dominated games.
"Football is a game of results but I also pay attention to things that bring results. The results have been better but not what we expected."
The former Chelsea manager also gave a glowing review of the Indian Super League. "I saw a lot of good things in ISL. Passion, organisation etc, many things were better than what I saw on TV. I think the base is good and on this, you need to build."
He also called for more football academies in the country. "People in the North-East are fantastic and want to learn. Even big players sometimes need education about basics. There are good talents in India, much better than I thought."
Going forward, Grant believes the number of foreigners allowed in a lineup should be increased.
"I think six foreigners are better than five. It will be good for the development of young players in India. We need to choose good foreigners who can be examples for the others."
When asked about the match against Kerala Blasters, the NorthEast United head coach reminisced about his coaching stint at Portsmouth where David James captained his team. Grant took the Pompeys to the FA Cup final in 2010.
"David James was my player eight years ago. We had an unbelievable achievement with Portsmouth in 2010. He was the captain and he was good. I wish him all the best," Grant signed off.