Indian Super League
ISL 2017-18: Albert Roca delighted with 'near perfect' display in win over Mumbai City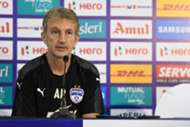 After his side picked up all three points in their clash against Mumbai City FC to move top of the Indian Super League (ISL) table, Bengaluru FC coach Albert Roca was unsurprisingly delighted with his wards' performances.
"Perhaps today was one of the better games. We wanted to turn things around. And we did by playing a good game so I'm very happy," Roca said in the post-match presser.
"The game wasn't easy, we were very focused. They didn't manage the game as we did. My team was up in the game, step by step. After the goals, things got better," he added.
Having gone ahead just before half-time through Sunil Chhetri's spot-kick, the Spaniard said that the plan for the second period was to keep going the same way along with a bit of game management.
"I didn't change things at the break, I told them to keep working the same. We made only little changes by taking out a striker and ensured position of midfield we needed at the moment. In the last things weren't so difficult," the Bengaluru tactician explained.
"I'm very happy to win the three points. The way we won today is what I was looking for as a coach from the start of the match. It wasn't possible to be perfect but that's how football is. (Could not keep a cleansheet). The points are important. We have to keep working like this," he added.
Asked if the plan was to target Abhinash Ruidas on the wings after the injury to Raju Gaikwad, Roca replied in the affirmative.
"Ruidas has played as a winger but after Raju's injury they made a change. We took advantage of the situation but it's a shame we didn't keep a cleansheet. Emana (Achille) has been alert, he was the best player in the second division of Spain. Today my team was better, we did our job," he stated.
Boithang Haokip was handed a start for the match and Roca was delighted with his display on the night.
"I'm happy for Haokip because he hadn't gotten too much for us earlier. He did what I wanted; he performed better than I expected. He played 70 minutes in very intensive way. I want a competitive squad for the AFC Cup. I'm sure I'll go again with him (in the future)," Spaniard said before signing off.