Indian Super League
ISL 2017-18: Kerala Blasters' David James - I can't talk about the previous regime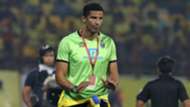 David James was disappointed that Kerala Blasters didn't get a penalty when Chekhiyot Vineeth was allegedly brought down inside the box by Mohammed Ali.
The Yellow brigade suffered their fourth defeat of the Indian Super League (ISL) season as they went down 2-1 to FC Goa.
"I thought the team did very well. It is difficult when a player gets one-on-one inside the box, the player goes down and the referee waves play on. Unfortunately, that's football.  The players have put in a superb effort," said James.
The 47-year-old was also asked to share his thoughts on Rene Meulensteen, the former Kerala Blasters coach, claiming that skipper Sandesh Jhingan had been drinking in the aftermath of their 5-2 thrashing at the hands of FC Goa in Goa last month.
"With regards to the stories, I haven't read them all. I wasn't here. But I did speak to Sandesh to make sure there isn't anything that he needs to be bothered about. Sandesh was very big today. That is what I want from my captain. I can't fault him. I thought Sandesh played very well. He wanted to win the game. I am angry of course, because I think we should have had a penalty
.
"I can't talk about the previous regime because I wasn't here. I am going to set up an environment different to that. With regards to drinking, I trust the players to look after themselves because if they don't, they are not going to play.
"We have a very good communication level at the club. At the end of the day, if there is a problem with it, we will find out. With the way we train, we will find out. It is a trust policy. I told Sandesh that I wasn't here. It has nothing to do with me," explained James.