Indian Super League
ISL 2017-18: Jamshedpur FC ride their luck as Mumbai City FC left to rue missed chances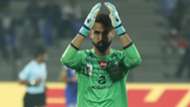 Thursday night's Indian Super League (ISL) clash between Mumbai City FC and Jamshedpur FC was a crucial fixture, given that the top four ambitions of both the teams hinged largely on this game, given that they were placed fifth and seventh on the table prior to this game. 
However, it was Jamshedpur FC who firmly affixed themselves in the race for top four after a 2-1 win at the Mumbai Football Arena, despite not being at their best during the tie. In fact, the home team found themselves on the losing side largely due to their own deficiencies. 
Jamshedpur FC started the game well though and exposed Mumbai City's full-backs often. Alexandre Guimaraes' team is short of good options in that position and it was no wonder to see most the Men of Steel's forays forward originate from the wings. 
Sanju Pradhan had a poor game and capped it off with an own goal which gave Jamshedpur the equaliser. First, Sanju failed to keep track of Farukh Chowdhury's run from the left wing. The youngster went on to nutmeg Gerson before entering the box and scuffing a shot horribly. 
It took a deflection from another Mumbai defender and as Izu Azuka swooped in to bundle it in, Sanju could only hit it into his own net from point-blank range.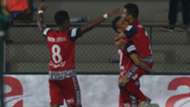 After conceding the goal, Mumbai had several opportunities as Jamshedpur FC looked uncharacteristically susceptible in defence. The defeat had all the characteristics of Mumbai City's loss to ATK in the playoffs last season at home where they literally dominated the game but ATK stole the points. 
Jamshedpur FC, who normally look rock solid when they play with two foreign central defenders - Andre Bikey and Tiri, were nervous in defence with Anas looking a bit short on confidence. THeir attack also lacked a spark, given that Wellington Priori was playing in a role normally carried out by Trindade Goncalves. 
The equaliser conceded also was down to Subrata Paul's tentativeness to collect a corner and the failure of the centre-backs to track Everton Santos' run. 
But Jamshedpur were lucky enough to grab a late winner after Bikey put a speculative cross in. Raju Gaikwad missed a header. Belfort should have converted from point-blank range, but for an outstretched leg from Amrinder Singh, and the rebound was luckily bundled home by Bikash Jairu. 
As Mumbai City fans watched on in disbelief, Balwant Singh would have been cursing himself for all the gilt-edged opportunities he was afforded in the game. The striker missed at least three golden chances during the game - a performance which can only be classified as a shocker! 
But Steve Coppell and co. would not have minded a bit as they pocketed three fortunate points!