Indian Super League
ISL 2017-18: Marcelinho's absence won't affect FC Pune City, says Vladica Grujic
Ashwin Muralidharan (@AshwinMNair10)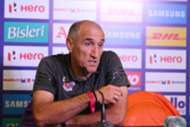 FC Pune City assistant coach Vladica Grujic has stated that his team can deal with the absence of star forward Marcelinho, who is suspended for their upcoming Indian Super League (ISL) game against Chennaiyin FC on Saturday. 
Marcelinho had picked up his fourth yellow card of the season against Kerala Blasters in Pune City's previous game and has been forced to sit the game out.
Grujic, standing in for Ranko Popovic who was handed a four-game ban for his vocal criticism of the referees, said,"Marcelinho is one of the best in the league. We will miss him I'm sure but I know our team has good quality.
"If we cannot play without a player, it means we are not a proper team. Marcelinho is a strong player but we want to do our best. Diego (Carlos) will play instead of Marcelinho tomorrow." 
The 55-year-old went on to state that FC Pune City cannot afford to relax despite being placed third on the table currently, imploring his side to keep their focus. 
"We are here to win like every game. on Saturday, we are playing a strong team in Chennaiyin FC. Our players know this and now the time is here where the playoff contestants will be decided.
"It is very important to win games at this stage. Everybody knows how we play football - we play with possession and are focused on our attack.
"We have achieved nothing yet. You can be placed anywhere on the points table. Now the time has come to win points and finish in the top-four. Then everything else is possible. Any team can beat another team in this league. It depends on the performance of the day." 
The Serbian also scoffed at the fact that FC Pune City have never beaten Chennaiyin FC in the ISL so far, expressing confidence that his team will win on Saturday. 
"I don't think so (that such a statistic matters). This is a new team. Players from last season are not here. It is just a piece of statistic. We will try to change this piece of stat." 
He also revealed that FC Pune City are at full strength for Saturday's showdown with Chennaiyin FC.