Indian Super League
ISL 2017-18: Delhi Dynamos' Miguel Portugal - Jamshedpur FC are a balanced side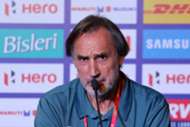 Delhi Dynamos coach Miguel Angel Portugal was in a good mood ahead of their Indian Super League (ISL) clash against Jamshedpur FC on Sunday evening.
The Lions are fresh from the 2-0 win over Bengaluru FC in a game which they could have easily won by a much bigger margin. Although still at the bottom of the ISL table, the squad is much more confident after beating a team which is leading the pack.
"It is always good to win. I think when you win, it is the best confidence booster and I think it is the best training," opined Portugal.
"We beat Bengaluru in the previous match. I think we are improving. It will be a good match tomorrow (Sunday) against Jamshedpur," he added.
The former Real Madrid player believes that Jamshedpur FC have some good players in defence and attack. He named some of their impressive players who have caught his attention.
"Jamshedpur are good side, I love their game. They played well against Kerala (Blasters) and won. They are definitely a good team. They have a strong defence with Tiri and Bikey. I know them.
"They also have a good striker in Azuka. Their wingers, Jerry and Jairu are also good players and have pace. They are a very balanced side," signed off Portugal.