Indian Super League
ISL 2017-18: Delhi Dynamos' Miguel Angel Portugal rues individual mistakes and set-piece vulnerability
Ashwin Muralidharan (@AshwinMNair10)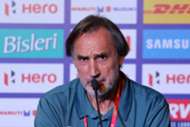 Delhi Dynamos coach Miguel Angel Portugal feels that his team's struggles in the Indian Super League (ISL) season is down to vulnerability in set-pieces and individual mistakes from his players. 
The former Real Madrid player asserted that his methods are working but errors have let the team down. 
"We have had two problems so far - in defence and in attack. We have had a lot of opportunities to score but we have not done so. We play well in midfield but the defence has a problem," he said ahead of Delhi Dynamos' away tie against Chennaiyin FC. 
"The problem in defence is our setpiece defending. Chennaiyin FC will try to exploit that weakness. But we will try to defend well. The teams have been scoring from our own mistakes rather than their skill. 
"We are trying to rectify this situation."
The 62-year-old went on to defend his methods at the capital-based club and pointed out that silly errors have let the team down. 
"It is a bad Christmas for me. It is not nice when you lose six matches on a trot. But I think the team played well during these games. 
"I think our system is good and if our players play well, we will win. The success of the system depends on the players. If all players played well, you will win," re-asserted Portugal. 
He expressed hope that Delhi will put an end to their losing streak on Sunday against Chennaiyin FC and backed his players to come good. 
"Chennaiyin are playing for the first position but we are going for a win. I think my team will play well and we have confidence in ourselves," he said. "Probably, we might bring in some different players (for the Sunday game). 
"This game is a must-win for us after the losses. When you win five or six times, it is possible that you might win the next game. It is also possible that you might win the next game after losing five or six games."