Indian Super League
ISL 2017-18: John Gregory - Mohammed Rafi did what he does best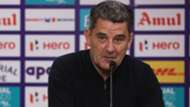 The Super Machans erupted with joy when Mohammed Rafi scored a late header to earn a point against Jamshedpur FC at the Marina Arena on Sunday. Head coach John Gregory did not hide his ecstasy after his side hung on to the third spot on the league table after 16 games. 
"I'm delighted with the point. I thought we deserved all three points after the second half. It was an incredible effort by my team today. This is our fourth game in 12 days and we've had to travel as well. I won't name individuals but a lot of that team has played all four. The way we dominated the second half showed us who we are. We've had young guys playing in the team, who did not shy away from the ball. Some of the individual performances were colossal," said the coach.
The coach went on to describe the second half performance against Jamshedpur as a training session for his side. 
"I just asked them to keep going. Our knack of scoring late goals shows how good my team is. It shows their focus and application till the end. We just came out and carried on playing. We kept passing the ball everytime we got the ball. Basically, they tried to hoof the ball into our box and we tried to attack again. It was like a training session basically. We could have won comfortably if one or two balls had fallen kindly for us," opined the coach.
The 63-year old coach went on to describe the modus operandi of his team and also praised Rafi for his timely header.
"We were playing a team who were pressing high. They (Jamshedpur) don't pass the ball but they look to get the ball up and win knock downs. They had a lot of energy and they had not played a lot recently. We've had an exhausting game against Goa and we expected them to come at us in the manner we expected. I was happy that we were only one goal down. But we took over in the second half. Everybody was going forward and Rafi did what he does best."
Mailson Alves picked his fourth yellow card of the season and will now miss their penultimate game against Kerala Blasters in Kochi.
"When you suggest certain players to not get involved in certain situations – saying is one thing but actually walking off is difficult. We have accepted and moved on from bad decisions but probably Mailson (Alves) should not have got involved today with (Andre) Bikey. But he's amassed four yellows and for a central defender to ge the first suspension after almost 16 games, he has done well. But I have a good squad with lots of boys ready to replace him in the next game," said Gregory confidently. 
The former English midfielder once again pointed the poor refereeing decisions in the game but declined to comment on Wellington Priori's wonder goal.
"I thought one was hand-ball initially from that point. But these are things we accept and move on. We could have won the game without dubious decisions. But we managed to get through it. At the end, the best team will win the league. It won't be the luckiest team. We'll talk about that goal (Wellington Priori) later. Maybe we could have done better with it. We do not attribute blame to anybody in the team," signed off Gregory.