India
Indian Football - Praful Patel: 'Bhaichung Bhutia and Abhishek Yadav will be involved with the U17 national team'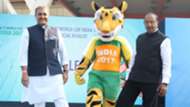 The President of the All India Football Federation (AIFF), has assured analysts and fans alike that the governing body is keen to involve the services of Bhaichung Bhutia and Abhishek Yadav to oversee a period of transition for the U17 national team slated to participate in the U17 World Cup, later this year in India.
Nicolai Adam and the Indian FA agreed to part ways recently after players of the side protested and complained about his methods, combined with a streak of poor results compounded by the last place finish of the Blue Tiger cubs in the recently concluded Valentin Granatkin Cup.  
It must be remembered that Bhutia serves as the chairman of the Technical Committee of the AIFF, while Yadav is in charge of scouting for talent. Both of them are former seasoned internationals with the Indian national team, the former a once leading goalscorer for the Blue Tigers.  
"It's not that we wished this to happen. We want to have the best coach in place. I have spoken to Baichung Bhutia and Abhishek Yadav that they will have to be more involved in the next few months to integrate the team with the new coach. There will be no problem in the preparation of the team. The U17 campaign will be on track as early as possible with the best possible man-in-charge," elucidated a confident Patel, to the Times of India, on the sidelines of the launch of the Federation International de Football Asociation (FIFA) U17 World Cup mascot. 
Acknowledging that a souring of the relationship between the Indian U17 national team coach Nicolai Adam and his cadres was the primary reason for the former's ouster from his position, the 59 year-old chief was adamant that the right decision was taken after due process. 
"There were some interpersonal relationships which went sour between the young players and the coach. The player and the coach must have a comfort level otherwise none of the parties will be able to deliver. 
"We tried to see reason.We felt that it was not going to work.Time is also short. We couldn't let a situation like this continue. Now we will have a new coach in his place by the end of this month," he elaborated, stressing plans were on track to find a quick and reputable replacement for the departed German coach.
The chief concluded, on the process of sacking Adam, "If we receive a complaint, then what are we supposed to do? Let us not go too much into the technicalities. The fact is there was friction between the players and the coach. We took immediate action."