I-League
I-League: Bino George reinstated as Gokulam Kerala coach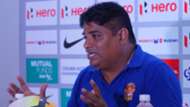 Gokulam Kerala have appointed Bino George as the head coach for the upcoming edition of the I-League. Goal had exclusively reported that George is the favourite to take charge of the southern outfit.
The Kozhikode-based outfit recently parted ways with Spanish coach Fernando Valera. Valera was appointed as the head coach of the club in March this year. He took over the reins from Bino George who was in turn promoted to a role of the technical director.
"Even though I was with the team as the Technical Director, it will take time to change whatever the previous coach has instilled into the team.
"But still we have one more month to go for I-League. I can cope up. Gokulam is my family, they are in my blood. I'll bring the best results for them. We want to play the AFC Cup (by winning the I-League) now. That's our dream now. We need the support of Kerala," George told Goal.
Gokulam Kerala were knocked out of the AWES Cup in Goa earlier this month. They played pre-season friendlies against ATK and Bengaluru FC. The Malabarians won 4-1 against the reserve side of ATK and lost 1-4 against the Blues. The I-League is expected to kick-off in the last week of October.