I-League
I-League 2017: Thangboi Singto hopes that Shillong Lajong would improve their away form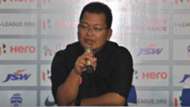 Thangboi Singto, head coach of Shillong Lajong, was all praises for his star striker Aser Pierrick Dipanda whose sixth goal of the season gave the Reds their fourth straight I-League win on Sunday. 
"I think it is a deserved win but I would like for us to develop more. Not taking anything away from the game today, the boys did really well. Again, Dipanda showed his class. He has already scored six goals which is fantastic. It is very important for us to have him and other players stay fit," he commented. 
He also went on to congratulate his goalkeeper Vishal Kaith who came up at least two vital saves in the second half to keep Churchill Brothers at bay.

"We also have players who can come in from the bench and impact the game like Fabio Pena. That adds that stability in the team. Vishal (Kaith) also did well in goal. He was the man of the match, so credit to him as well. I think he has grown as a player and made several good saves. But it is a team game and everybody did well," Singto gushed. 
Though Shillong Lajong have won four straight games at home, they have lost all of their three away games so far. The Manipuri coach went on to deny claims that they are title challengers and insisted that their away form is still a huge concern. "It's too early to say we can challenge for the title. We need to better our away form if we are to do better than last year. Our away form has been really poor. But the team is set and hopefully, we can improve on that by maintaining the same intensity," he signed off. 
Meanwhile for Churchill Brothers it was a defeat which they least expected.

The visitors' assistant coach Alfred Fernandes was left ruing his forwards' profligacy in front of goal. 
"It is all about scoring and we created a lot of opportunities. But we did not capitalise and also their goalkeeper pulled off good saves from A Kroma and Adil (Khan). Anthony Wolfe also missed a header from close range. So, I would have been happy with a point," he said. 
He went on to state that The Red Machines' primary aim is to secure a mid-table finish and narrated the difficulties he had to face in setting his team up.

"We have had only three sessions to set the team up before the season and that was a big challenge for me. Somehow, I rose up to the challenge with the help of the players and we had to play Mohun Bagan in the very first game in Kolkata. The boys have done well to fight and our primary aim is to finish in the midtable," he concluded.