I-League
I-League 2017-18: Shankarlal desperate for a home win, Meneses confident ahead of facing Mohun Bagan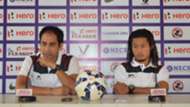 Under pressure Mohun Bagan lock horns against defending champions Aizawl FC in a crucial home tie in the I-League on Sunday at the Salt Lake stadium.
The Green and Maroons are on a four-match winless streak at home. They suffered a shock defeat against minnows Chennai City FC in the last game which resulted in the ouster of their head coach Sanjoy Sen.
Sen's former assistant Shankarlal Chakraborty took charge of the side thereafter.
Ahead of his managerial debut in I-League, coach Shankarlal hinted about making some changes in the starting XI against Aizawl.
"There will be some changes. Everyone will get to see tomorrow (Sunday). I cannot say much now," said Chakraborty.

On opponents Aizawl, Bagan coach opined, "Head coach Khalid Jamil and most of the players have left the title-winning team this season but, it does not look like they have started from the scratch. I believe this team is even stronger than last years. So it will be tough for us."

Shankarlal has a difficult task at hand. He has taken charge of a depleted Bagan side who are low on morale. Speaking of his challenge, the coach said, "We have to overcome the tough situation with hard work. If I don't take this challenge now at this age, then I might not be able to forever. This match is about making Mohun Bagan return to winning ways."
Aizawl FC coach Paulo Meneses sounded confident ahead of the clash in Kolkata. The Portuguese coach said, "We try to do our job. We try to compete against all teams to get three points. Nothing will be different as we will try to win. Our preparation is always the same. I don't care if Mohun Bagan are going through a bad phase as our target is to win games."
On their preparation, the coach opined, "Our team shape and combination is much better now. Before our first match, I had mentioned that we didn't have a great pre-season. But we have improved now."
If Sony Norde's absence will be an added advantage for his side, the Aizawl coach replied, "I don't care whether Sony Norde will play or not. If he doesn't play it is a problem for Mohun Bagan, not for us. They are a strong team who collectively perform. If I give importance to Norde and forget about other players like Kingsley, it will be a problem for us."