I-League
I-League 2017-18: Bino George rues lack of foreign players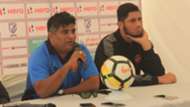 Gokulam Kerala FC host Indian Arrows in an I-League clash on Friday. Both the teams have struggled so far this season. While the team from Kerala are ninth in the league table with four points from seven matches, Arrows are seventh with seven points from nine outings.
Ahead of their crucial clash, a confident Gokulam coach Bino George said, "We have always been confident about all things. We are not thinking about the absence of foreigners in the Arrows squad. They will be competitive and we are hoping for a win."
On asked if his team has any fresh injury concerns, George replied, "Balwinder has chicken pox. He is admitted to the hospital. I have no idea what is happening!"
The coach continued, "The problem with us is the lack of foreign players. We signed Odafa because it was easy to complete the paperwork. He has scored a lot of goals."
On opponents Indian Arrows, Bino said, "Indian Arrows are showing a lot of promise for the future. Their possession and passing are all really good. The small mistakes they are committing is due to their age. They will threaten if given space."
Arrows boss Luis Norton de Matos agreed to the fact that it has been a difficult season so far for them and tomorrow's game will not be a walk in the park.
"For us, tomorrow will be difficult. We are not in the best shape. Since December 19th we have played so many matches, so very short time to recover. There was a lot of travelling. These are not excuses but reality. It is not easy for these young boys," said Matos.
On their opponents, Matos opined, "For me, all the teams in I-League can win against each other. The strongest points in each team are the foreign players. For us, this area is a handicap in terms of results. The match against Gokulam in Delhi was a strange game. They scored the first goal from a corner. Their second goal was from a free-kick. At the end, they got the three points."
The Portuguese coach confirmed that Sanjeev Stalin who suffered an injury in their match against NEROCA will remain out of action. "Sanjeev Stalin is the only player who is injured. He suffered an injury against NEROCA. It was a rough challenge."