I-League
I-League 2017-18: Churchill Brothers coach Alfred Fernandes calls for VAR in Indian football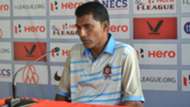 Churchill Brothers and Chennai City FC lock horns in a crucial I-League encounter in Coimbatore on Saturday. It is a do-or-die situation for rock-bottom side Chennai City as another defeat would more or less confirm their relegation to the second division.
Churchill's form suddenly took a dip after going unbeaten in five consecutive matches. They lost to Indian Arrows and NEROCA in their last two games.
Ahead of the must-win clash, Churchill coach Alfred Fernandes said, "After the first leg loss, our team has gone through a transformation. We had quality additions to our squad so we are a different team. We are playing very good football now. Same goes for Chennai City FC.
"They might be at the bottom half but they are playing very good football. Tomorrow (Saturday) it will be a very hard game since both the teams are in the relegation zone. We expect a tough match. It's their home match and they will come hard on us."
Fernandes once again rued the fact that his team did not have quality players from the beginning of the season. He said, "If we had all these players who are part of the team now at the start of the season, we could have been among the top three teams. In modern football, it's all about confidence.
"When your morale is low, it takes a lot of effort from the coaching staff to motivate the players. My job is to motivate and guide them. Since the arrival of the new signings, the motivation of the side has gone up."
The Churchill boss also suggested a difficult end to the season. "It is the business end of the I-League and there are a lot of things involved. The season end is always a scary thing. No team is relegated until the last match is played," said Fernandes.
On the team's performance in the last two matches, the coach said, "The last two matches could have gone either way. In the Arrows match, we were in a winning position until the 90th minute. Two silly errors cost us two goals. About the NEROCA match, a lot has to be discussed. If you want the football standards in India to go up, we have to go for the technology (VAR). From the refereeing side, my team has suffered a lot. Three clear were penalties not given in the NEROCA match."
He confirmed that the only player missing in tomorrow's game is right-back Wayne Vaz who is suspended after picking up four yellow cards.
Chennai coach V Soundararajan sounded optimistic ahead of the match. He suggested that his team has an advantage as Churchill Brothers players would be tired due to their hectic schedule. They travelled from Manipur to Coimbatore and will be playing their second match in four days.
Soundararajan said, "Tomorrow there is a chance for us because their team (Churchill Brothers) is very tired. It is a golden opportunity for us to win. Psychologically my players think that Churchill cannot win the match in Coimbatore. We are also under pressure.
"I told my boys to convert chances. We are not able to push the ball into the net even after dribbling past goalkeepers. There are two sides to tomorrow's match. Firstly, opponents will be tired as they are travelling from Imphal and playing a match within three days. Secondly, we want to win the match in front of our fans in Coimbatore."
On his team's poor performance this season, the coach opined, "My players are giving their best. It is not like they aren't trying. They are doing their best but not getting the results. I told them to work hard and they have realised now."
He confirmed that the team do not have any injury issues and all the players are ready to play this must-win encounter.