Transfers
I don't regret leaving Kaizer Chiefs, says Baloyi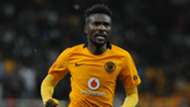 Lucky Baloyi has been on the lookout for a new club ever since he parted ways with Kaizer Chiefs over a month ago.
While the 26-year-old is yet to find a new club, he has revealed that he holds no regrets over cutting his stay short at Naturena. Baloyi found himself struggling for game time during the 2016/2017 Premier Soccer League (PSL) campaign, and admitted that at his age he cannot afford not to be playing.
"I'm no longer a youngster and I can't afford to sit without playing. So, it was my decision to leave Chiefs," Baloyi told The Sowetan.
Baloyi penned a new two-year deal in March, but subsequently made a U-turn after he realised it was not in his best interest.
"I knew at a time when I renewed that there was still time because we still had a few months to go before the end of the season, but then nothing changed and I wasn't playing. I realised the chances of me playing next season are less," Baloyi said.
Meanwhile, Baloyi has cast his net wide open as he goes in search of regular game time, and remains confident that his agent Jazzman Mahlakgane will secure him a deal soon.
"All I want is to play. It doesn't matter where I play. My agent is talking to other teams," Baloyi added.
"The situation worries me because I've always had a team during pre-season since I started playing professional football in 2010, but I know my agent is looking for a new team that I can play for [regularly] next season," Baloyi concluded.