South Africa
Sundowns' Percy Tau will be an asset to South African football, says Stuart Baxter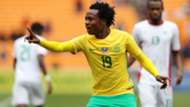 Bafana Bafana head coach Stuart Baxter believes that Mamelodi Sundowns attacker Percy Tau has a bright future ahead of him.
Tau has been in fine form for both club and country showing youthful exuberance and big match temperament beyond his years, and his exploits on Saturday afternoon was responsible for the national team's resounding success over Burkina Faso. But despite receiving rave reviews from many within the football fraternity, Baxter has warned against putting the 23-year-old on a pedestal especially after just a single impressive international performance.
The Englishman believes that while Tau has the ability to be an asset to the national team for years to come, he still has a lot to learn.
"Percy (Tau) is a talented player. He will grow and he has more to come," Baxter was quoted by The New Age as saying.
"But at the same time, we cannot bring him up on the pedestal on the back of one performance.
"He has a lot of work to do. He is a great lad. He wants to learn and he will get better. I am delighted to have him in our squad and I believe he will be an asset to South African football for years to come. He is on the right track. He must keep going," he concluded.