United States
Howard criticizes Klinsmann over foreign-born players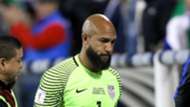 U.S. national team goalkeeper Tim Howard has criticized former coach Jurgen Klinsmann over his use of foreign-born players.
Klinsmann, who was fired in November after losing the first two games of the Hexagonal, incorporated many players into the U.S. national team who were raised outside of the United States, including Julian Green, Aron Johannsson, John Brooks, Fabian Johnson and Timmy Chandler. 
"Jurgen Klinsmann had a project to unearth talent around the world that had American roots. But having American roots doesn't mean you are passionate about playing for that country," Howard told USA Today.  
Gio dos Santos says brother Jonathan and Galaxy both interested in a move​
"I know there were players that came in that it didn't matter as much to," Howard said. "If you get enough of those players, one or two can get found out, but if you get enough of those players you lose sight of what you are all about. While it was a good idea in theory, it had its flaws. [new coach] Bruce [Arena] will 100 percent get that back."
Howard also stated that he believed, in hindsight, Klinsmann should not have been retained after the 2014 World Cup. 
"I think that internationally coaches should probably get a four-year reign," Howard said. "It is not club (soccer) where you get to spend $150 million on players, you essentially have the same core of players. You can trim the fat and bring some rookie in or a guy from college or someone who had a good season. But you can't revamp it too much. What you need is fresh ideas, fresh voices."
Arena will begin his second spell in charge of the U.S. national team with a friendly against Serbia on Jan. 29.