Manchester United
How Shaw went from the Man Utd scrapheap to back in Mourinho's good books
Luke Shaw could be considered one of English football's most divisive characters.
From the moment he burst onto the scene at Southampton, a hugely-talented performer has faced as much criticism of his apparent flaws as he has praise for his supposed qualities.
A senior star with the Saints at 16 and their youngest Premier League debutant, Shaw has also graced a World Cup finals, made a £30 million move to Manchester United, seen his weight questioned, suffered a double leg fracture, had his attitude pulled up in public, sparked transfer talk and split the opinion of coaches, fans, players and pundits.
Not bad for a man yet to celebrate his 23rd birthday!
Before he toasts that occasion in July, it could be that Shaw adds the penning of a new contract to a drama-filled bio and completes a remarkable career circle at Old Trafford.
Joining a galaxy of stars at United was always going to thrust Shaw under the brightest of spotlights, but few can claim to have experienced such a rollercoaster of emotions at the Theatre of Dreams.
On the day that he arrived, Red Devils legend Ryan Giggs said of a highly-rated addition: "Luke is a very talented young left-back with great potential. I am delighted he has joined Manchester United as I believe this is the right club for him to continue his development and eventually fulfil that promise."
Within a matter of weeks, however, then United boss Louis van Gaal was setting the tone for what was to follow, with the Dutchman saying of Shaw's physical state in July 2014: "Luke needs to be fit and he's not very fit and can't perform how I want. He needs to be fit and to train individually."
He was to then counter those comments 12 months later, after witnessing a debut campaign of niggling knocks for the youngster, by saying: "Luke Shaw is a big talent. I think that it [2015-16] shall be the season of Luke Shaw. I believe in him and he has to feel that."
Roy Hodgson, an England boss counting down the days to Euro 2016, added in September 2015: "I think he's been a bit harshly treated personally. He didn't look as if he was looking after himself too badly at Southampton and played well enough to get the £30m move."
Days after those words were uttered, a tackle from PSV's Hector Moreno left Shaw with a badly broken leg and facing up to almost a year on the sidelines.
When he did return to action, Jose Mourinho was at the United helm and not particularly taken by what he had seen from a man unsurprisingly affected by fears regarding his fitness.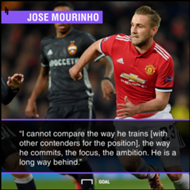 The Portuguese said in November 2016, as he dealt with a mounting injury list: "There is a difference between the brave, who want to be there at any cost, and the ones for whom a little pain can make a difference. For the team you have to do anything, that is my way of seeing [things]."
He later added on Shaw specifically: "I cannot compare the way he trains [with other contenders for the position], the way he commits, the focus, the ambition. He is a long way behind."
Between the end of November and the conclusion of the 2016-17 campaign, just another six appearances were made, with Mourinho saying after a 25-minute run-out off the bench against Everton in April: "He had a good performance but it was his body with my brain. He was in front of me and I was making every decision for him."
Hardly words to inspire confidence in a player who was seeing his ongoing presence at Old Trafford questioned on a regular basis, with the opening of a new season failing to bring about a reversal in fortune.
Former United utility man Phil Neville said of Shaw's struggles: "When I see someone that's been criticised by his manager publicly and he's probably fighting for his Man United future. I didn't see that real hunger to sprint to every ball, to sprint forward, to sprint back, I saw someone that's coasting."
He added: "Look, he should be England's left-back, 100 per cent. I scouted him for United when I was coach there. I just find it frustrating now that he's not grasping the opportunity in front of him and fulfilling that potential. He needs to play football and I'm not sure that's going to be at United."
Phil's brother Gary, who knows a thing or two about being a full-back for the Red Devils, said in October 2017: "Luke has got to deliver the same level of performance as Antonio Valencia. He's a long way away from that at the moment."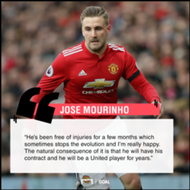 At that stage, talk of a January move was gathering pace but, having previously been restricted to two Carabao Cup outings, Shaw was recalled by Mourinho for a Champions League clash with CSKA Moscow on December 5 and has appeared in nine of 15 fixtures since.
He is now back in favour with those who have openly criticised him in the past, with his manager telling reporters during the winter transfer window of 2018 as links to new left-backs began to fade: "He was already improving and playing well when I start playing him after that long spell without minutes. I remember the first time, in the Champions League, he was coming step by step. I'm really happy and I can say that in this moment, I don't see many left-backs better than this Luke Shaw."
Mourinho has added on the long-term future of a man who has seen a 12-month option in his current contract triggered to take him through to 2019: "He's been free of minor injuries for a few months which sometimes stops the evolution and I'm really happy. The natural consequence of it is that he will have his contract and he will be a United player for years."
In a little under 12 months, Shaw has transformed in the eyes of his boss from a sporting robot unable to perform without assistance to an asset deserving of fresh terms who has a big role to play heading forward.
Understandably, the 22-year-old is delighted to see his hard work paying off, and there a desire on his part to end a personal four-year cycle of highs and lows back where it started in the summer of 2014.
Shaw said: "I want to play as many games as possible to help United. If I can, then hopefully I will state my case to go to the World Cup. I had a taste of it in Brazil and it was amazing."
A seat on the plane to Russia with a new contract under his belt? Now that really would complete the circle.