PSL
Hlatshwayo: Ajax Cape Town treated defeat as something normal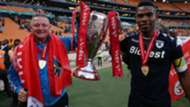 Bidvest Wits captain Thulani Hlatshwayo believes Gavin Hunt has instilled a winning mentality within the side, saying he calls meetings after every defeat.
"He (Hunt) just loves winning. During my stint at Ajax (Cape Town), the team would treat a defeat as something normal, expecting it to happen to any team, but not at Wits. He (Hunt) always calls us for meetings after every defeat," Hlatshwayo told The Star.
"Normally, after every game, the team would get a day off. This is not the case when we lose. He would make us train with the rest of the guys who didn't play on the day, and that's just the way he is. Hunt builds character in all his players. If you had a bad game, he would call you for a one-on-one session and try to help you improve on your mistakes," Hlatshwayo said.
The 27-year-old has made history by becoming the first Wits captain to lead them to the title, and is in line for more success as he has been nominated in three diferent categories at the PSL awards, including Defender of the Season accolade. The annual awards ceremony will take place on July 10 in Sandton.
'Tyson' credits Hunt for awakening the beast in him, something he never knew existed within him following his move from Ajax Cape Town three seasons ago.
"I've worked with a whole lot of coaches who've contributed to me being a player I am today. The likes of Foppe de Haan, Roger De Sa, and all my development coaches, all of them contributed, but I have to admit that it was coach Hunt who transformed me into a beast. He awoke something I never thought I had inside of me," Hlatshwayo said.