Transfers
Hertha star Grujic shows he's ready to challenge for Liverpool midfield spot next season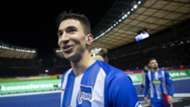 If Liverpool finally bring the Premier League trophy back to Anfield this season, Jurgen Klopp's first signing will celebrate the success without picking up a medal.
Marko Grujic joined the Reds in January 2016 for £5.1 million ($6.7m) after Klopp phoned him personally to convince the midfielder to turn down interest from Real Madrid and Barcelona and move to Merseyside.
Since then, Grujic has played just eight league games for Liverpool, initially being loaned back to Red Star Belgrade before getting to grips with English football on loan at Cardiff City.
This season he has been watching Liverpool's progress from Berlin, where his latest loan spell has taken him to Hertha. However, Grujic is not upset at missing Liverpool's title run-in, having progressed as a footballer in Berlin.
"Of course, it would be great to be there," he told Bild. "But for the development of my career at this time, it is much more important to always be in the starting XI than to be mentioned by name."
After Liverpool's late 2-1 win against Tottenham on Sunday, Spurs boss Mauricio Pochettino admitted that despite the result he was pleased with how his players dominated Liverpool in the middle of the park at Anfield.
"We were laughing a little bit because more than £100m in two midfielders, [Naby] Keita and Fabinho on the bench, and you go and play and you are better and dominate," the Argentine admitted.
While Keita has floundered this season and Fabinho took some time to adjust to the Premier League, Grujic has shone in Germany.
Hertha club legend and now head coach Pal Dardai has been blown away by Grujic's all-round talent and ability to make an impact in every game.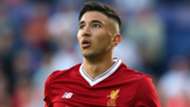 "I've been at Hertha for 22 years," Dardai told reporters. "This isn't meant as an insult to anyone else, but Marko is by far the best midfielder I've seen in my time at the club.
"I was a defensive midfielder and managed to score 17 goals, which isn't bad. But Marko carries much more of a goal threat, he's got a sensational shot on him and is much better than I was. He can play anywhere in midfield.
"He's got so much potential, and you can see that out on the pitch. He's so robust in the middle of the park, but he can still play. He's good in the air, he wins tackles and has got such a strong desire to win.
"I can only say: 'respect'."
Grujic's difference-making ability has been evident when he hasn't been on the pitch for Hertha.
Two separate ankle injuries have seen him miss 10 league games this season, with Dardai's side winning just one game without the midfielder in the starting XI, averaging 0.7 points per game. Hertha with Grujic is a different beast entirely, winning eight of 17 matches to earn 1.6 points per game.
As well as the points difference, Hertha are better in both attack and defence with Grujic in the team. The statistics indicate this; they have scored 1.7 goals and conceded 1.4 goals per game when he has played, compared to 1.1 and 2.0, respectively, when he hasn't.
The tall midfielder makes the team tick, bringing the ball forward from defence and setting up his more technical team-mates such as attacking midfielder Ondrej Duda, ex-Chelsea forward Salomon Kalou and former Manchester City winger Javairo Dilrosun, the last of which is unfortunately now injured.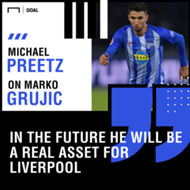 The loan from Liverpool has been hugely beneficial for Hertha, who would be on target to challenge for Europe had Grujic remained fit all season. Instead, they are comfortably in mid-table, but are eager to keep the Serbian for another campaign and see what they can achieve if he stays fit for a full season.
"Marko is an example of a player with quality, which we can usually not afford," director Michael Preetz told Goal. "But we can get him for one or two seasons on loan. And in the future he will be a real asset for Liverpool.
"The question is when Jurgen Klopp sees him at that level. He is already helping us, so we would like to keep him. But that decision will only be made after the season."
Grujic is happy with how the loan spell has gone, having also been a success during his temporary stay at Cardiff, who won promotion to the Premier League and wanted to bring him back for a second spell at the club.
In Wales, he showed he could handle the tougher side of English football, but in Berlin he has really flourished – something he admits himself as he looks to stay for another season and progress even further.
"I feel very comfortable in Berlin. Hertha gave me a great opportunity to play in the Bundesliga," he told Bild. "I'm still pretty young, for me this time at Hertha – with the exception of injuries – has been brilliant so far to show my qualities.
"But, ultimately, I cannot decide. But, if I could choose myself, I would stay with Hertha for another year, or maybe even two years, to make a very good name for myself by improving all my qualities. And that's only possible if you play every game.
"Hertha is my favourite. I would love to stay here longer. And if Liverpool ever wanted to sell me and I could decide, it would be great if Hertha made an offer.
"Most of all my self-confidence has increased due to the match practice. My defensive behaviour has also improved a lot because of the games."
If he stays in Berlin, he will be one of their key players next season. But don't rule out a return to Liverpool, as he has already shown he has the mental and physical ability to compete for a starting spot and maybe keep their £100m ($130m) midfield on the bench for a while longer.