NPFL
Heartland Etuemena gives reasons for the hiring of Mehmet Tayfun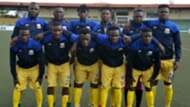 Heartland chairman, Chibuzo Etuemena has given more insight into why the Naze Millionaires are opting for the services of an expatriate, Mehmet Tayfun to tinker the team for the rest of the season.
The five-time league winners are currently 18th in the league table with 17 points from 16 games and Etuemena in a statement disclosed that their precarious situation in the league this season has made it imperative for the club management to take the bull by the horn and and ask for the assistance of an experienced coach that will transform the team.
"We want to better our performance in the league this season and as the second stanza of the league approaches, we deemed it necessary to bring in a foreign coach that will help us actualize our objective of not allowing our darling club to go on relegation," Etuemena stated.
"This lofty idea was possible because of the already existing partnership between Heartland and the Turkish club, Boluspor which we signed while we were still in the lower league last season. Boluspor deemed it necessary to fulfill part of the partnership by providing us with the services of a Technical Adviser in the person of Mehmet Tayfun.
"Tayfun has been mandated to reposition the club and we do not have any problem with him because he has a UEFA Professional Coaching certificate which makes him equipped to take up the challenge at hand.
"We cannot do anything without the fans and our supporters including football stakeholders in Imo State and we are appealing to them to be patient with the team. They should continue to stand by the team knowing that the management of the club is not sleeping regarding the team's present situation and we are assuring them that solutions are in sight," he concluded.