Chelsea
Hazard feeling 'wear and tear' of rough treatment from opponents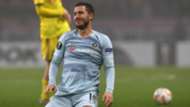 Chelsea star Eden Hazard admitted he was feeling the "wear and tear" as the attacker continues to be targeted by opponents.
Hazard recently returned from a back injury after making a stellar start to the Premier League season.
But the Belgium international said his body was beginning to feel the impact of consistently being fouled.
"I am feeling the wear and tear, I have been playing football as a professional for more than 10 years now," Hazard said.
"I'm 27 now and starting to get older, so I have to take more care of my body. I have been doing yoga since I came to Chelsea.
"I am not happy about it [being targeted by opponents] but it's part of football. The referee tries to do his job and I try to do mine.
"I guess when I am on the floor I can win free-kicks so every free-kick with Chelsea is a chance to score more goals."
The superstar attacker – whose team host Everton on Sunday – is also consistently among the most-fouled players in the Premier League. 
Waiting for Sunday... #CHEEVE pic.twitter.com/zwzfaSJgqv

— Chelsea FC (@ChelseaFC) November 10, 2018
Despite that the 27-year-old is joint-top of the league scoring charts heading into Sunday's contest. 
And while he does believe that there could be more protection for players from officials, he understands that it's not always easy for a referee to clamp down on fouls early on in a match.  
"For me that would be better but for the referee it's hard to show a yellow card in the first minute," Hazard said.
"Everywhere it is the same for me. 
"We have a lot of physios at Chelsea, so I just start with more treatment."
Chelsea will be hoping their star man doesn't break down any time soon. 
The Blues come back from the international break knowing that matches against both Tottenham and league leaders Manchester City loom in short order, with the Spurs clash coming immediately after the break and City on tap for December 8. 
A win on Sunday would leave Maurizio Sarri's side sitting no worse than joint-second in the league table, with the possibility that the club could end the week ahead of Manchester City, who face a derby with Jose Mourinho's United on Sunday.