Kenya
Harambee Stars coach blames fatigue for Malawi draw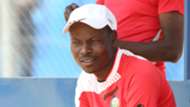 Harambee Stars head coach Stanley Okumbi says his players could have won the match if all were fresh.
He explains that a number of key players in the match were engaged in league duties over the weekend, a situation which saw them play without full recovery.
Malawi coach ridicules Harambee Stars after draw
"My boys played well but you know some of them had not trained with us in the last days prior to this match. They were playing for their respective clubs in the league unlike our opponents, who were together for the last three weeks.
"However, as a coach, I think if we get enough time to train together, we can do much better."
That was coach Okumbi's 11th match in a row without losing; the most recent results prior to this being  a 2-1 win against DR Congo and a 1-1 draw against Uganda.