Ghana
Grant backs Nyantakyi to continue as Ghana FA chief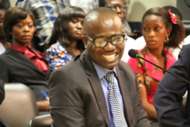 Outgoing Ghana coach Avram Grant has jumped to the defence of Kwesi Nyantakyi, insisting that the Fifa executive council member is the best person to lead Ghana Football Association amid calls for his resignation.
Nyantakyi became the body's chief in December 2005 and was re-elected last year for a third term which runs until 2019.
He has come under intense pressure recently after the Black Stars returned from the 2017 Africa Cup of Nations in Gabon without a medal and due to the delay in starting the 2017 Ghana Premier League season.
"Kwesi Nyantakyi is a great guy and needs support from government. I will like Ghanaians to maintain him as the football association president for a long time because he is the best," Grant told Starr FM.
"He has done a lot for the country and I believe with support from the nation, he will really do more in the future.
"He is a hard working guy and wants to do his best for his country so it will be good if he stays on in that position for a very long time because he is good," he added.
Grant also admitted that goalkeeper Razak Brimah was wrong to have launched a scathing attack at Ghanaians for criticising him during the Afcon.
"I think that [comments] weren't the best. I said to him that criticisms are everywhere. Whatever you do in life, people will criticise.
"I didn't like it and I told him it is part of the job, it wasn't fair to do that to the people of Ghana."
He added: "I was very sad when we lost in the semi-final against Cameroon in the Afcon and I am also sad that I am leaving Ghana but it is part of my profession.''