MLS
D.C. United makes big gains — Goal's Week 9 MLS Power Rankings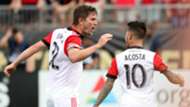 A crazy Week 9 saw road teams dominate, churning the middle of our rankings. The top teams stay unchanged, however.
(Our MLS Power Rankings are voted on by Goal's editors and writers. Comments written by Rudi Schuller).
---
1. FC DALLAS
---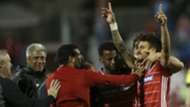 LAST WEEK: 1
CHANGE: —
Dallas was close to being knocked off the perch for the first time this season, only to be saved by two equalizers against the Timbers. If it isn't already clear, it's going to take a lot to claim the No. 1 spot from this team.
---
2. PORTLAND TIMBERS
---
LAST WEEK: 2
CHANGE: —
Portland nearly defeated FCD in Texas, which likely would have given the Timbers the top spot. Regardless, it feels like Caleb Porter's side will be knocking on the door for much of the season.
---
3. SPORTING KANSAS CITY
---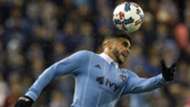 LAST WEEK: 4
CHANGE: +1
The league's best defensive team found its scoring touch in Week 9, which could spell trouble for the rest of the Western Conference.
---
4. TORONTO FC
---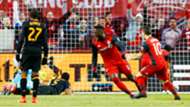 LAST WEEK: 5
CHANGE: +1
The tandem of Sebastian Giovinco and Jozy Altidore is beginning to fire on all cylinders, while TFC has shown remarkable depth through the early stages of the season. Is this the start of a dominant run for the Reds?
---
5. NEW YORK CITY FC
---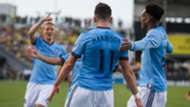 LAST WEEK: 7
CHANGE: +2
NYCFC found a way to win, on the road, without David Villa, Andrea Pirlo and Ronald Matarrita. The next step for Patrick Vieira is to get some more consistency out of his squad.
---
6. NEW YORK RED BULLS
---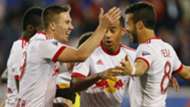 LAST WEEK: 8
CHANGE: +2
Three straight victories against Eastern Conference foes has the Red Bulls forgetting about their slow start.
---
7. SEATTLE SOUNDERS
---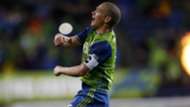 LAST WEEK: 3
CHANGE: -4
Yes, the three-goal comeback at home was impressive. But how did the Sounders give up a massive lead to New England in the first place?
---
8. ORLANDO CITY
---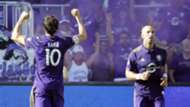 LAST WEEK: 9
CHANGE: +1
We may be underestimating the Lions here — they've won six of their first seven, after all — but until they hit the road for a stretch we think Orlando's record may be a bit inflated.
---
9. HOUSTON DYNAMO
---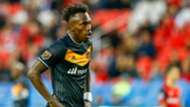 LAST WEEK: 10
CHANGE: +1
As good as the Dynamo have been at BBVA Compass Stadium, they've been equally bad on the road. Until that changes, Houston will be a middle-of-the-road side.
---
10. ATLANTA UNITED
---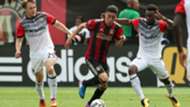 LAST WEEK: 6
CHANGE: -4
For all the talk about Atlanta's great start as an expansion franchise, there are looming questions about its fragility in defense. That's not even mentioning the team's underwhelming record at home, which is puzzling to say the least.
---
11. D.C. UNITED
---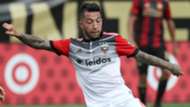 LAST WEEK: 15
CHANGE: +4
D.C.'s win in Georgia was a microcosm for its season so far — some bad, some good, and lots of questions. Still, the way in which Ben Olsen's side absorbed the early pressure and hit back was impressive.
---
12. CHICAGO FIRE
---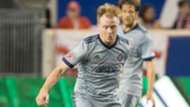 LAST WEEK: 13
CHANGE: +1
The Schweinsteiger Bounce may have worn off, but Chicago is still a much-improved team that looks like it'll do some damage in the long run.
---
13. MONTREAL IMPACT
---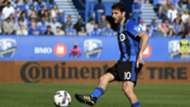 LAST WEEK: 11
CHANGE: -2
The Impact have been hit hard by injuries, but questions need to be asked about the team's defensive depth. 
---
14. SAN JOSE EARTHQUAKES
---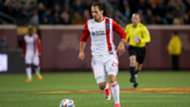 LAST WEEK: 14
CHANGE: —
Is there much to be excited about in Northern California? Early returns on the Earthquakes show much of the same that we've seen for the past several years.
---
15. COLUMBUS CREW
---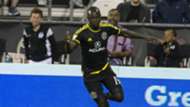 LAST WEEK: 12
CHANGE: -3
The Crew have taken a sharp downturn after a promising opening six weeks in 2017. Consecutive losses to in-conference opponents have put a real damper on Columbus' early-season start.
---
16. NEW ENGLAND REVOLUTION
---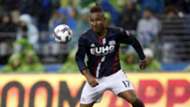 LAST WEEK: 18
CHANGE: +2
The Revs were minutes away from the most shocking victory in the league this year, but somehow they seemed to forget how to play soccer and squandered a seemingly insurmountable 3-0 lead in Seattle. That's just how it goes for New England over the past 16 months.
---
17. REAL SALT LAKE
---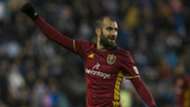 LAST WEEK: 16
CHANGE: -1
RSL was soundly beaten in Kansas City over the weekend, providing another reminder just how far the club has fallen.
---
18. LA GALAXY
---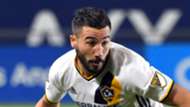 LAST WEEK: 17
CHANGE: -1
The once impenetrable fortress known as StubHub Center has become a house of horrors for the Galaxy this year. Sitting second-to-last in the West despite playing five of eight at home suggests that things may get even worse.
---
19. VANCOUVER WHITECAPS
---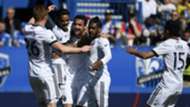 LAST WEEK: 21
CHANGE: +2
The Whitecaps keep showing flashes of competency, but a sustained run of good form is required for any real move up these rankings. 
---
20. MINNESOTA UNITED
---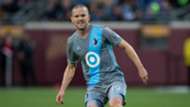 LAST WEEK: 19
CHANGE: -1
The floodgates have closed, but the Loons are still lacking enough quality to do much more than offer up the occasional victory against a struggling side.
---
21. COLORADO RAPIDS
---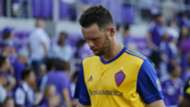 LAST WEEK: 20
CHANGE: -1
Colorado's defense has taken the slightest of downturns from last season, which wouldn't be much of a problem if not for the team's complete lack of ideas at the opposite end of the pitch.
---
22. PHILADELPHIA UNION
---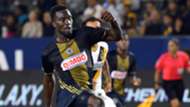 LAST WEEK: 22
CHANGE: —
Jim Curtin's seat has to be extremely hot right now. The Union are finding new and more depressing ways to drop points every week.