Goa Super Cup: Elite league to feature established youth teams like Dempo, AIFF Elite Academy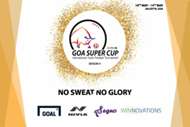 Goa Super Cup, a premier youth football tournament organised by Football School of India (FSI), will have several exciting features in its fourth season. 
The tournament, set to begin in Goa on May 11th, 2017, have introduced an Elite division which will run simultaneously with the open category and will feature some of the best teams in the country. 
Youth teams of former I-League champions Dempo SC, ISL franchise FC Pune City, Ozone FC and AIFF's U16 team will be a part of the Elite League. The presence of some of the best young footballers in the country is expected to be an added incentive for the teams participating in the open categories. 
Vaishali Sanas, head of FSI, says, "This is a great opportunity for young aspiring footballers to watch and learn from youth teams of professional clubs. Not only will it serve as a motivation for the teams from lesser known areas of the country to be noticed, even the coaches from these schools can learn from professional club coaches. Moreover, the presence of such big teams will raise the profile and standard of Goa Super Cup. We expect to become one of the most prestigious youth tournaments in the country."
In fact, GSC will feature three teams from UAE this time around and were also in talks with youth teams from Spain and Sri Lanka. However, the talks bore fruit very late and the travel arrangements for those teams could not be made, as per Vaishali Sanas. 
Moreover, this is also a welcome excursion for the youth teams that will participate in the Elite Club. They do not have many avenues to play competitive games once the U16 I-League season ends. 
They are also set to introduce a conclave for coaches to interact with each other and have a discussion on how to mould the next generation of stars. All in all, GSC is set to grow into a big event in the Indian youth football calendar.