Republic of Ireland
From outshining Bale to Premier League nearly-man - the cautionary tale of Stephen Ireland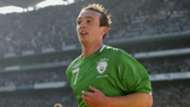 ---
COMMENT
---
Ten years ago to the day, Gareth Bale took to the field in Dublin to play for Wales against the Republic of Ireland in a European Championship qualification game.
Still a Southampton player and only 17 years of age, Bale's career was very much in its infancy, but his potential was certainly no secret and he was widely earmarked as a future star. However, despite the intrigue surrounding the precocious Cardiff native, another young talent stole the show on that historic day at Croke Park.
NxGn: The 50 best Under-19 talents
Though three years older than Bale, Stephen Ireland's international career was similarly just getting started in 2007. At 20, the attacking midfielder was on the cusp of a breakthrough at the upwardly mobile Manchester City and the game against Wales was only his fourth cap for the Boys in Green, but he had shown signs of his worth prior to the match with goals in qualifiers against Cyprus and San Marino.
Irish fans were tentatively hopeful that the kid who hailed from the same place as Roy Keane would become the leading light of a new generation and his performance against Wales on the first ever football game at Croke Park only contributed to that burgeoning sense of expectation.
Ireland scored the decisive goal for Steve Staunton's team as they simultaneously kept their qualification hopes alive and ended Wales' chances. His cool finish on the 39th minute, after cleverly rounding goalkeeper Danny Coyne lives long in the memory of those who were on the pitch that day, as well as those spectators who witnessed it. "The fans got behind us and pushed us on hard," a relieved Ireland said after the game. "Everyone was determined to win and we all pulled together and it was a good team performance."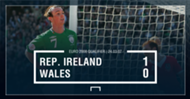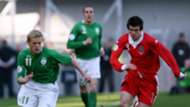 But, as Bale prepares to lead his country into another crucial battle against Ireland in Dublin on Friday, the man who impressively outshone him 10 years ago is nowhere to be seen. While Bale now sits proudly at the top of world football an icon in Wales and a Champions League winner with Real Madrid, Ireland sits at home, a crocked Stoke City player who failed to live up to his potential.
Few could have predicted it, but after hitting the winner against Wales, Ireland's international career came to a swift and acrimonious end.
He made just two more appearances for his country before finding himself in shunted into exile after a bizarre maelstrom of dishonesty over a request for compassionate leave from international duty. An infamous series of lies about the deaths of his grandmothers precipitated his metamorphosis into the pariah of Irish football.
Mbappe can be the new Messi or CR7
"I realise now that it was a massive mistake to say my grandmothers had died and I deeply regret it," Ireland said at the time. "It was wrong and I sincerely apologise as I have caused a lot of problems for many people. I would like to apologise to my grandmothers and all my family. I have learnt a valuable lesson from this mess and hope those I have hurt will forgive me."
Remarkably, despite the furore and embarrassment of the saga, the young Ireland continued to excel at club level and, in 2009, he was voted Man City's Player of the Year after helping the club to a top-half Premier League finish with nine goals from midfield.
At just 23, he looked primed to have the City team built around him as they embarked on a journey to the summit of English football.
However, a change in direction from the club, which saw the replacement of Mark Hughes by Roberto Mancini at the helm, led to a steep decline in fortunes for the Irishman. Mancini famously said that Ireland had to "change his head" in order to succeed at City and so, just a year after emerging as the club's best player, the midfielder departed Eastlands for Aston Villa in 2010.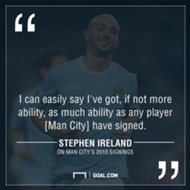 Unsurprisingly, Ireland disagreed completely with Mancini's analysis, and he did not shy away from disputing the Italian coach in an interview with the Guardian following his arrival at Villa. "I think that was really unfair, all the players know I was the first player into training and the last to leave," said the Irishman.
"I worked the hardest. With all the heart-rate monitors and tests, I was always No. 1, far ahead of everyone. You see the performance in training and I was practically always the best player in training. If [Mancini's] standing there watching that, I don't know how he doesn't see that."
His self-assuredness was once again evident when he suggested that he had "if not more ability, as much ability" as the players they signed in 2010 - which included the likes of David Silva, Yaya Toure and Edin Dzeko.
Unfortunately for Ireland, however, things have never been the same since. Man City have gone on to win two Premier League titles and the FA Cup, but Ireland has struggled to recapture the brilliance that characterised his early years, scoring just seven goals in as many seasons. 
While he can still claim to be a Premier League footballer - if that even means anything these days - he must wonder what might have been as he weighs up injury-plagued disappointment after disappointment at first Villa, then Newcastle and now Stoke.
Indeed, as Martin O'Neill's Ireland get ready for another joust with Wales, so too must Irish football fans.
Ahead of that game, it is fair to say that Ireland's fall from grace as a footballer intersects with the remarkable rise of Welsh superman Bale. And though it may seem unfair to compare the two now, 10 years ago it was the latter who stood out on a pitch graced by the glittering talent of Ryan Giggs, Damien Duff and Robbie Keane.
Back then, only one of them seemed destined for the top. Now, he is but a Premier League cautionary tale.