Ligue 1
From Ligue 1 to Superstardom: Claude Makelele - Real Galactico
Gol Digital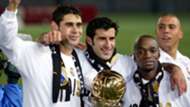 There's the Cruyff Turn, the Panenka penalty, the Papin volley, the Maradona 360 or the Zidane roulette.
But even those greats didn't have an entire position named after them. 'Inverted winger' conjures up images of Arjen Robben or Cristiano Ronaldo cutting inside onto their strong foot; 'false no.9' does the same for Lionel Messi or Francesco Totti dropping from the centre-forward role to create and exploit space.
But there's one position reserved for one man in particular, which evokes only memories of a single player, the one against that all specialist defensive midfielders are judged: The Makelele Role. 
The term entered common footballing parlance to combat just how underappreciated the France international was during the Galactico era at Real Madrid. Steve McManaman labelled Makelele "the most important and yet least appreciated midfielder at the club".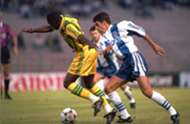 The great Zinedine Zidane went one step further when asked about Madrid president Florentino Perez shipping Makelele out and bringing in David Beckham. "Why put another layer of gold paint on the Bentley when you are losing the entire engine?" he asked.
Born in Kinshasa, the capital of Zaire, now known as the Democratic Republic of the Congo, he moved to Savigny-le-Temple in south-east Paris as a young child. Football was in his blood, with his father, Andre-Joseph, a Zaire international who was a constant confidant throughout his son's glittering career.
Claude made his Ligue 1 debut in 1991 after joining Nantes as an 18-year-old, and as he forced his way into the team, it was his first steps towards making a position his own.
"We found a role that was perfectly well suited to him," then coach and Nantes club legend, Jean-Claude Suaudeau, told Presse Ocean. "He stopped trying to dribble or playing the final pass. Instead, he prevented others. It was the right option as his game blossomed."
For four years, Makelele quietly manned the engine room of the famous Nantes side of Christian Karembeu, Patrice Loko and Benoit Cauet, who shocked the nation by marching to the Ligue 1 title in 1995.
"We won the league in 1995 and the following year reached the semi-finals of the Champions League," Makelele told the Guardian.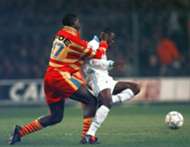 "For a young team from a small club like Nantes to play a semi-final against Juventus was incredible. We lost 4-3, but it was a beautiful adventure and it made me even more ambitious. I saw myself going to a big club and winning big trophies."
With a home World Cup on the horizon, Makelele rejected interest from abroad, instead opting to remain visible by joining Marseille. It proved a bad decision.
"The pressure was enormous and the team was hardly superb. It was a season of sufferance," he admitted.
A squad featuring Laurent Blanc, William Gallas, Christophe Dugarry and Fabrizio Ravanelli slumped to a fourth-placed finish and Makelele was overlooked by France coach Aime Jacquet that summer.
After more than 200 appearances in Ligue 1, it was time to move on, for a fresh start and a new home in a new league as he headed for Spain to join Celta.
"After Marseille, I came to appreciate football again in Vigo. I arrived at a club I didn't know anything about so it was a bit of an adventure."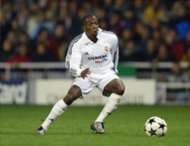 That adventure saw him star as the springboard from which the likes of Valery Karpin and Alexandr Mostovoi could lead an exciting side.
His fine form earned him a move to Real Madrid, where he quietly led them to two league titles and 2001–02 UEFA Champions League glory.
But Perez wanted more. He wanted glamour, glitz and the marketing euros that they brought. "He wasn't a header of the ball and he rarely passed the ball more than three metres," Perez embarrassingly stated when criticised for his remarkable decision to offload Makelele to Chelsea. 
"Younger players will arrive who will cause Makelele to be forgotten."
Makelele was never forgotten. They even named a position after him.