Emmanuel Frimpong
Frimpong: I've not been lucky with injuries in my career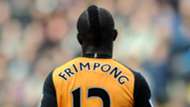 Ghana and AFC Eskilstuna midfielder Emmanuel Frimpong believes injuries have been a major stumbling block in his career despite a promising start.
The 25-year-old began life at Arsenal youth academy, before earning a Premier League debut in 2011. However, he was soon undone by two anterior cruciate ligament injuries which halted his progress.
"When I was younger I was much more explosive," Frimpong told ESPN FC.
"Obviously, when you have a couple of injuries it slows you down, your body starts to ache, you start getting those little niggles.
"You can't expect to be out injured for two, three years and come back and everything's just the same as how it was before you got injured. So it's just unlucky, but the world goes on I guess."
Despite the injuries and unsuccessful loan deals at Fulham, Charlton Athletic and Barnsley, Frimpong insists he doesn't regret plying his trade in England.
"I don't regret anything. For me, everything has gone much, much better than what I planned when I came to England. I was just a kid. I didn't come over to play football, I came to see my mum," he said.
"I ended up playing for the team that I love, the team that I support. For me that was even enough, just playing for Arsenal even if it was for one minute. I've played for my country [Ghana] so, for me, as a footballer, that's what you dream of, playing for the club you love and for your country.
He added: "Already at 25, I've already experienced that, so for me obviously the dream goes on but there's nothing that I regret, because life is too short. You just have to enjoy yourself."
Frimpong made his Ghana debut on March 24, 2013 against Sudan in the 2014 Fifa World Cup qualifiers.