Michael Hector
'Bayern and Dortmund players are just human' - Chelsea loanee Hector says high-flying Frankfurt fear no one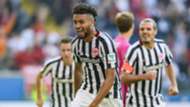 ---
EXCLUSIVE
---
Michael Hector has been helping high-flying Eintracht Frankfurt to compete with the likes of Bayern Munich and Borussia Dortmund in the Bundesliga, despite the club almost getting relegated last season. 
Hector: I could've been selling trainers in JD Sports!
Frankfurt signed Hector in the summer from Chelsea on a season-long loan deal, despite him never having setting foot in Germany before, but he has quickly adapted to life in the business centre of the country. 
Chelsea signed Hector for £4.7 million around 18 months ago from Reading and he chose the club he supported as a boy over Crystal Palace on a hectic deadline day. He spent another year on loan at Reading, but he has since stepped up to the top level of the Bundesliga, joining a side who finished last season in the relegation playoff place, but sit third after 19 encounters this term - one point above Borussia Dortmund.
And the defender says his side's success is partly down to the fact they do not fear any opponents. After all, they are only human.
"I think that as a team, we understand that we are achieving beyond what people expect us to," he told  Goal at the Commerz-Bank Stadium. "But the people we are playing are human beings as well and just because they are big names, it doesn't mean they have a right to win the game.
"We have proven that with the right football, we can compete with anyone on their day. That's the mentality installed into our heads and we take it into every game. To play in front of my family in Dortmund was special and nice - and to even beat Dortmund was surreal.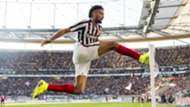 "The players they had on the pitch at the time, they were world class players so to keep them quiet was good. I think the Berlin game was special because I have never experienced a last minute goal, so to score a last minute goal to help the team [pick up points] was a surreal feeling."
The good parts - the winner against Hertha Berlin and being involved from the start against both Dortmund and Bayern Munich - have been very good, but he has also been given two red cards this term. 
Niko Kovac's side have been seen as a Leicester City-like story in Germany and Hector believes that the Croatian is a special manager, but although the 24-year-old has seven starts and six substitute appearances under his belt so far, he would like be starting every game rather than being used in rotation.
"It is frustrating to not play in other games and I have come to play week-in-week-out," he added. "I have spoken to him and he understands that and he is the manager who obviously picks the team.
"I know when I am called upon that I can do the job and I know I can help my team win the games, but it is not my decision to pick the team. All I can do is train hard and work hard for the team. It is nice to play the big games here and hopefully I can play more, both home and away.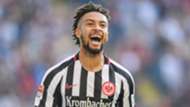 "The mentality he has is very strong, he is a hard man and a perfectionist. He is tough. It is good for what the team needs. He has drilled the team very well into shape and what he wants.
"He is a very good manager and you can see it with his record here and he has done very well, got a new contract and he is flying. The staff around him bounce off each other very well, it is his brother. They do well together and that's why the team is doing very well."
Man Utd tried to sign Chelsea star Willian
Hector started his side's victory over Hannover 96 on Wednesday and he has become more famous than he has previously ever been in his new surroundings. 
"The players have kept their feet on the ground," he continued. "I live at a hotel and the staff at the hotel are Frankfurt fans and they are buzzing at the moment and they can't believe our achievement and it is hard to say to a fan 'calm down'.
"They have been waiting all their lives to see their team do really well, but we need to remain focused and stay on course with what we are doing now. I have made a few friends. It has been good.
"The keeper, Lucas [Hradecky], is a very interesting guy. I go for food with him, Branna [Hrgota] and Taleb is my room mate so I have got on well with him because we room together.
"There is a few others that I share lifts with. It has only been a short space of time but we go for meals together in the evenings and they all live in Frankfurt."