WTF
FIFA 18 player ratings: EA Sports unveil players ranked 80-61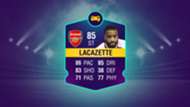 EA Sports' countdown of the best 100 players on FIFA 18 continues with the unveiling of the stars ranked between 80-61 on Wednesday evening.
After releasing the first batch of 20 players from the top 100 on Tuesday with players rated from 100-81 , the next set of players includes even higher rated stars, including two players who have five-star skills.
Angel Di Maria and Franck Ribery have the full five-star skill rating, meaning they can do every single skill move in the game, while some of the Bundesliga's top-rated players have been included in the latest batch, with David Alaba, Javi Martinez, Marco Reus and Sokratis all given high scores.
Arsenal's new signing Alexandre Lacazette has a rating of 85, while at the other end of the pitch, the Gunners goalkeeper Petr Cech is given 86 overall.
EA is expected to continue to release the top 100 in the coming days, leading up to the unveiling of the game's best player.
Goal 's list below has the full rundown of the players ranked between 80-61 and their stats as they will be seen on Ultimate Team when FIFA 18 hits the shelves on September 29.
---
80. JAN VERTONGHEN | Spurs
---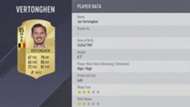 After helping Spurs finish second in the Premier League, Jan Vertonghen has gotten a bump in his rating, moving up two points overall to 85 in FIFA 18.
---
79. ANGEL DI MARIA | PSG
---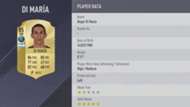 Argentina winger Angel Di Maria once again possesses five-star skill moves, but has seen his overall rating drop two points from 87 from last year's edition.
---
---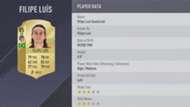 Another solid season at left-back for Felipe Luis keeps his overall rating steady at 85, while his High Work Rate will help him build attacks from the back and get up the pitch in FIFA 18.
---
77. LORENZO INSIGNE | Napoli
---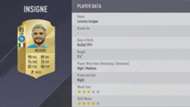 Lorenzo Insigne keeps improving in FIFA, having had an 81 rated basic edition in FIFA 16 and starting at 83 in FIFA 17. His return of 18 goals in Serie A last season sees him get another increase.
---
76. CESAR AZPILICUETA | Chelsea
---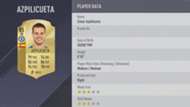 Cesar Azpilicueta gets an increase of one overall point on last year, but most notable is his position change from left-back to centre-back following his Premier League title win in Antonio Conte's 3-5-2 system.
---
75. MIRALEM PJANIC | Juventus
---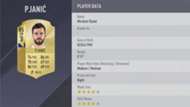 Having had a Ones-To-Watch version in FIFA 17, Miralem Pjanic retains his 85 rating in FIFA 18 after his debut season since joining Juventus from Roma.
---
---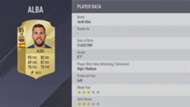 Jordi Alba's 93 pace makes him one of the quickest full-backs in FIFA 18, but despite his pace staying the same, his overall rating has gone down one point from 86 last year.
---
---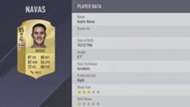 Having been just 79-rated two years ago in FIFA 16, Keylor Navas' fantastic spell as Real Madrid's first choice has seen him once again come in with an 85 overall rating in FIFA 18.
---
72. BLAISE MATUIDI | Juventus
---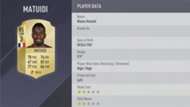 Blaise Matuidi is a new arrival at Juventus, having signed from PSG in the summer for a transfer fee of up to €30.5 million and that is reflected in his 85 overall rating this year.
---
71. CASEMIRO | Real Madrid
---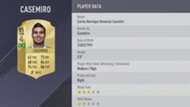 Casemiro just keeps getting better and better for Real Madrid. That is reflected in his FIFA 18 score. Back in FIFA 13, he was a silver player with a 72 rating, but after scoring in the 2017 Champions League final, he is now rated 85.
---
70. ALEXANDRE LACAZETTE | Arsenal
---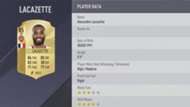 Arsenal's new striker had all the attributes that made Arsene Wenger splash out over £46m to sign him from Lyon, and his excellent pace, shooting and dribbling stats are sure to make FIFA 18 managers want him too!
---
69. MIRANDA | Inter Milan
---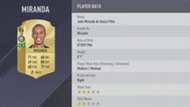 Miranda retains his 86 rating from last year, having become an integral part of the Inter Milan defence over the past two seasons following his transfer from Atletico Madrid.
---
---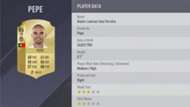 Pepe's move to Besiktas from Real Madrid gives the Turkish Super Lig a highly-rated defender both in real life and in FIFA 18. The Euro 2016 winner was rated 88 last year, but his 86 rated version will still prove extremely popular.
---
---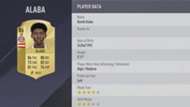 David Alaba has long been regarded as the best left-back in the Bundesliga, and his FIFA 18 rating reflects that. It is a slight decline on last year's 87, but he retains his 86 pace score.
---
66. PETR CECH | Arsenal
---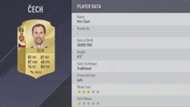 Arsenal goalkeeper Petr Cech receives an 86 rating this season, having kept 12 clean sheets in the 2016-17 Premier League season. Only four goalkeepers had more during the campaign.
---
65. JAVI MARTINEZ | Bayern Munich
---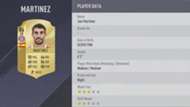 Bayern Munich's brilliant backline contains a large number of highly rated players, including Spain international Javi Martinez, who sees his overall rating improve to 86 in FIFA 18.
---
---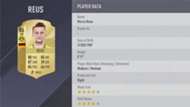 Former FIFA cover star Marco Reus remains one of the highest rated players in the game, even after playing just 17 Bundesliga games last season due to injury. His four-star weak foot will keep him in demand.
---
63. DIEGO COSTA | Chelsea
---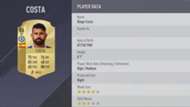 Diego Costa may not be getting gametime at Chelsea, but his 86 overall rating in FIFA 18 as well as a high physical rating of 88 will surely see him included in many Premier League and hybrid squads.
---
62. SOKRATIS | Borussia Dortmund
---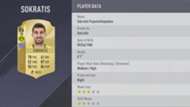 Greece international Sokratis has received an improved rating every season since joining Borussia Dortmund. His FIFA 18 version is 86 rated and has a pace score of 78, which is much higher than most central defenders in the game.
---
61. FRANCK RIBERY | Bayern Munich
---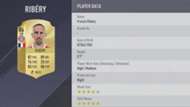 Like last year, Franck Ribery has gained an 86 overall rating, but it is his five-star skill moves and four-star weak foot combination that will surely increase his value and usefulness in FIFA 18.