FFA Cup
FFA policy questioned after Avondale forced to cover up Italian flag in FFA Cup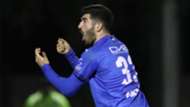 Victorian side Avondale FC continued their FFA Cup fairytale on Wednesday by beating Marconi Stallions 4-1, but their night wasn't without drama after they were forced to cover up an Italian flag on the back of their jerseys.
The flag was an apparent breach of the National Club Identity Policy (NCIP) introduced by Football Federation Australia in 2014 as a way to make football inclusive and accessible to all Australians.
In practice, the policy's aim is to ensure club names, logos and emblems do not carry any ethnic, national, political, racial or religious connotations.
As result of the NCIP, Avondale were forced to put duct tape over the Italian flag that dons the back of their jersey against Marconi - a club itself with strong Italian roots.
Such stringent implementation of the policy has attracted anger from many who believe the FFA took it too far.
— Vince Rugari (@VinceRugari) July 26, 2018
— JoeyM ⚽☕🐎 (@warriorboy67) July 25, 2018
— Dimitri Peppas (@DimitriPeppas_) July 25, 2018
At the time of the NCIP's creation four years ago, FFA CEO Davip Gallop suggested the policy was about ensuring football could unite people. 
"Football is now a part of the mainstream of Australian society and has achieved that status while also retaining its rich diversity," Gallop said.
"The intent of the National Club Identity Policy is to ensure the game remains inclusive and accessible, not just in the way we organise ourselves, but in how we engage with the community.
"The very name and logo of a club sends a message about what that club stands for. We want clubs that stand for uniting people through the joy of football."
Avondale was founded in 1984 by Italian immigrants and was originally known as Keilor I.C.K.A.
After a name change in 2000, the club began to rise through the ranks in 2009 and earned a spot in the top division of the National Premier League Victoria for the first time in 2015.
They are now through to the FFA Cup round of 16 after seeing off Marconi 4-1 on Wednesday night with Kane Sheppard, Joey Katebian, Liam Boland and Evan Christodoulou all getting on the score sheet. 
CEO of Football Federation Victoria hit out at the NCIP after the Avondale incident, stressing it must be removed.
— Peter Filopoulos (@peterfilopoulos) July 26, 2018
Avondale FC were contacted for comment but declined to weigh in.