Gaming
Fantasy Football: Ronaldo stars in Goal's Champions League Team of the Week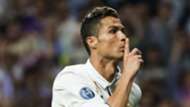 It was another action-packed two days of Champions League action. We now know the four teams who will contest the semi-finals of the competition. Monaco are the relative newcomers to this stage, unlike Real Madrid, Juventus and Atletico Madrid who have all reached this stage in the past two years. Here's a look at the best performing players in Goal's Champions League Fantasy Football game.
Download Goal Fantasy Football on iOS or Android now and win great prizes every week!
Don't forget that there's a Premier League and European Super League edition of the game so why not enter a team ahead of this weekend's action and see how you fare against friends, colleagues or the rest of the Goal community. There are monthly prizes up for grabs as well as the season long prizes so there's still an opporunity to secure one before the end of the season.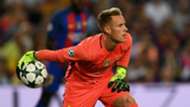 GK: Marc-Andre Ter Stegan - Barcelona - 1 Game, 4 Saves, 1 Clean Sheet = 9 Points
They may have been able to overturn a four-goal deficit in the last 16 but Barcelona failed to break down Juventus at the Camp Nou. Not only did the Catalan giants draw another blank, but their goalkeeper was the top performing player in his position after the Serie A side asked plenty of questions going forward themselves. In fact, Marc-Andre Ter Stegan's tally was the second highest of the quarter final second legs.
DF: Dani Alves - Juventus - 1 Game, 1 Clean Sheet = 7 Points
DF: Leonardo Bonucci - Juventus - 1 Game, 1 Clean Sheet = 7 Points
DF: Giorgio Chiellini - Juventus - 1 Game, 1 Clean Sheet = 7 Points
DF: Alex Sandro - Juventus - 1 Game, 1 Clean Sheet = 7 Points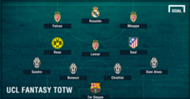 MF: Thomas Lemar - Monaco - 1 Game, 2 Assists = 8 Points
MF: Saul Niguez - Atletico Madrid - 1 Game, 1 Goal = 8 Points
MF: Marco Reus - Borussia Dortmund - 1 Game, 1 Goal = 8 Points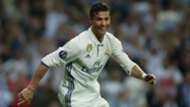 FWD: Cristiano Ronaldo - Real Madrid - 1 Game, 3 Goals = 17 Points
With eight points more than anyone else in this round of fixtures, Cristiano Ronaldo reminded everyone why he's one of the world's greatest players even despite his advancing years. It may have been a controversial match from a refereeing perspective but those who included the Real Madrid forward would have been delighted to see his hat-trick against Bayern Munich and becoming the first player to reach 100 goals in this competition.
FWD: Kylian Mbappe - Monaco - 1 Game, 1 Goal = 7 Points
FWD: Radamel Falcao - Monaco - 1 Game, 1 Goal = 7 Points