Toyota Football Engine
Fans' Asian Player of the Week: NorthEast United's Bartholomew Ogbeche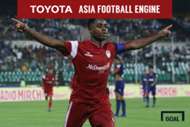 NorthEast United FC's Bartholomew Ogbeche has been chosen as last week's Fans' Asian Player of the Week, following his impressive performance in his team's 3-1 win over Chennaiyin FC in the Indian Super League. 
The 34-year-old scored a fantastic hat-trick and was also named Goal's Asian Player of the Week. 
After the Highlanders went 2-0 down, he capitalised on parried shot to pull a goal back in the 29th minute. Then he would latch on to cross before steering an expert finish home. He would go on to make it 3-3 after rounding the keeper after getting on the end of a throughball by Federico Gallego.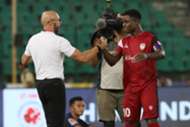 Also in the fray for the honour was Arnold Issoko of Mumbai City who was also impressive in his side's win over Pune City. 
But the fans made their voice count as Ogbeche received a whopping majority of the votes.