WTF
EXTRA TIME: Watch Janine Van Wyk in training and New Year message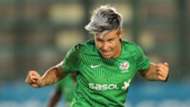 If that's not good enough then Van Wyk also wants to show you that her training is done. 
Here she is showing us that it's important to inspire different attributes in players on the training ground.
Most of all you can notice she is looking forward to the New Year, and to say goodbye to 2017.
" Strength lies in differences,
not in similarities"

Training done✔ #hardwork #lovemyjob #footballife pic.twitter.com/JG1YqSL4qs

— Janine Van Wyk (@Janinevanwyk5) December 29, 2017
January 1st 2018 is a Monday. A fresh week, a fresh month and a fresh year. If you want to start over I don't think you can possibly find a better time ✔

— Janine Van Wyk (@Janinevanwyk5) December 29, 2017
Waving goodbye to 2017 like......pic.twitter.com/4gXV1HNJde

— Janine Van Wyk (@Janinevanwyk5) December 28, 2017