Transfers
EXTRA TIME: The rise of Tashreeq Matthews from Ajax Cape Town to Dortmund youth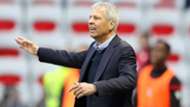 Could Tashreeq Matthews follow in the footsteps of the likes of Steven Pienaar, a South African to star for Dortmund?
Matthews is already with the Bundesliga clubs youth team and according to reports, Dortmund will only be able to sign him when he turns 18 in September.
So, we will have to wait until then if the move definitely happens. In the meantime Matthews will have to keep impressing the scouts and coach Favre.
Let's have a look at how we've followed the progress of one of South Africa's next best bright talents.
Tashreeq Matthews the 17yr-old attacking midfielder has agreed a lucrative deal with the Bundesliga giants Borussia Dortmund.

The Ajax product was said to link up with Dortmund in Germany after he turned 18 in September but the talented youngster has already said his farewells pic.twitter.com/GEPl7z2Rm3

— Marly Mokes (@MarlyMokes22) July 17, 2018
Tashreeq Matthews already on the squad picture of Borussia Dortmund U19. Should sign a contract when he turns 18. pic.twitter.com/MhEUJ4RnjZ

— FloSimba (@FloSimba88) July 15, 2018
Tashreeq #Matthews wird an seinem 18. Geburtstag (12. September) einen Vertrag beim #BVB unterschreiben [@RNBVB]

— BVBJugend (@BVBJugend) July 11, 2018
Borussia Dortmund have agreed a deal to sign 17-year-old attacking midfielder Tashreeq Matthews from Ajax Cape Town, according to Kickoff. #BVB #AjaxCT

— Ronan Murphy (@swearimnotpaul) June 1, 2018
BVB are going to sign Kamal Bafounta (16) from Nantes and Tashreeq Matthews (17) from Ajax Cape Town for their youth teams. Matthews will join the team in September when he turns 18. https://t.co/1HwGxgbYlU

— Luca (@FearTheKirch) June 1, 2018
Talented young South African youth international & @ajaxcapetown attacking midfielder, Tashreeq Matthews (17) has signed a contract with German @Bundesliga_DE campaigners, @BVB & will link up with his new team in September when he turns 18. pic.twitter.com/G10h0hr9jN

— SpyTwoSA (@SpyTwoSA) June 1, 2018
Gooooooooooooaaaaaaal #MozvsSA Tashreeq Matthews puts SA in front in the 61st minute #U20AFCONQ

— SAFA.net (@SAFA_net) May 12, 2018
12'| GOAL!

The Magician - Tashreeq Matthews fires into the bottom left corner to double our lead.

Magic.

 2-0 #MDCShield @Asidlali

— Ajax Cape Town (@ajaxcapetown) April 14, 2018
 Seven #UrbanWarriors called up for U20 national duty:

https://t.co/36RvodqXz5

Congratulations Kiyaam Bull, Keenan Abrahams, Tylo Miller, Azola Ntsabo, Tashreeq Matthews, Zaakir Allie and Lassina Traore. #OurYouthOurFuture  pic.twitter.com/W2h917CFzG

— Ajax Cape Town (@ajaxcapetown) April 13, 2018
Teenage striker Tashreeq Matthews (17) has been promoted to the @ajaxcapetown senior squad from the Youth Academy #PSL pic.twitter.com/Sq2lMZQT4e

— DiskiStyle (@DiskiStyle) February 27, 2018
PROMOTED The #UrbanWarriors are excited to announce the graduation of Tashreeq Matthews, from our Youth Academy to our PSL squad!

https://t.co/2izRjoJFb2#OurYouthOurFuture #WeAreAjaxCT  pic.twitter.com/M82PvmAs0K

— Ajax Cape Town (@ajaxcapetown) February 27, 2018
Looks like Tashreeq Matthews is joining Borussia Dortmund when he turns 18.

— FloSimba (@FloSimba88) June 1, 2018
Tashreeq Matthews who scored for SA against Mozambique on Saturday… https://t.co/EFAv6Ak8Nw

— matlhomola morake (@morakem100) May 13, 2018