Mogau Tshehla
EXTRA TIME: The PSL's tribute to Mogau Tshehla on Twitter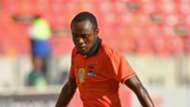 After Mogau Tshehla was tragically involved in a car accident, the PSL are postponing the match between Bloemfontein Celtic and Polokwane City.
"The League wishes to convey heartfelt condolences to the family of Mogau Tshehla and the Polokwane City family during this difficult moment," read a PSL statement.
Instead of taking place on Sunday, February 18, the PSL is yet to confirm a new date. Here's how the league's top teams and fans gave their emotional messages for Tshehla on Twitter.
As we celebrate the love month,let's not forget about Mogau Tshehla from polokwane city .#May his soul rest in peace.

— Ntebaleng (@Dindeew2) February 14, 2018
It is with our deepest sorrows that we inform you of the death of our Defender Mogau Tshehla on a car accident. Our thoughts are with the family;teammates and friends

Psalm 37:39 But the salvation of the righteous is of the LORD: he is their strength in the time of trouble pic.twitter.com/Mtp89Rch5z

— #RiseAndShine (@polokwane_city) February 12, 2018
To Tshehla family and Polokwane City

Kaizer Chiefs have received with sadness the news of the passing of Polokwane City defender Mogau Tshehla.

We offer our sincere condolences and deepest sympathy to your loss.

May Mogau's soul rest in the eternal peace! pic.twitter.com/sh3QntIXs8

— Kaizer Chiefs (@KaizerChiefs) February 13, 2018

Our deepest condolences to the family of @polokwane_city defender Mogau Tshehla, who tragically passed away in a car accident last night. May his soul Rest In Peace.
#ONCEALWAYS pic.twitter.com/JAJ6JFWSb5

— Orlando Pirates FC (@orlandopirates) February 13, 2018
Condolences to the friends and family of Mogau Tshehla the @polokwane_city defender.
May his soul rest in peace pic.twitter.com/GxtQZ6kgAR

— Bidvest Wits (@BidvestWits) February 13, 2018
The PSL has granted a request by Polokwane City FC to postpone their weekend Absa Premiership fixture against Bloemfontein Celtic.
The match was scheduled for Sunday, 18 February 2018.
This follows the sad and tragic passing of Polokwane City player Mogau Tshehla

— Carol Tshabalala (@SimplyCarol8) February 13, 2018
The match between @Bloem_Celtic vs @polokwane_city has been POSTPONED, following the passing of Mogau Tshehla. #RIPMogauTshehla pic.twitter.com/xp6rXulKku

— Bloemfontein Celtic (@Bloem_Celtic) February 13, 2018
At @polokwane_city's press briefing following the passing of right-back Mogau Tshehla. @KayaFMSport pic.twitter.com/5DdhsFxzQJ

— Mmaphuti Mashamaite (@Miss_Masha23) February 13, 2018
Sad news about our teammate Mogau Tshehla..Thoughts are with his family and friends 🙏🏽 #RIP https://t.co/SLBAiTZ5Dg

— Nazier 17 (@NazierJacobs17) February 12, 2018
Cape Town City would like to offer its sincere condolences to Polokwane City FC, as well as the friends, family and teammates of defender Mogau Tshehla after his tragic passing...#RIPMogauTshehla pic.twitter.com/ggv0keEj6X

— Cape Town City FC (@CapeTownCityFC) February 13, 2018
The Siwelele family conveys its deepest condolences the @polokwane_city family, friends, teammates and colleagues of Mogau Tshela.
Robala Ka Kgotso! pic.twitter.com/9k1ctAjeHD

— Bloemfontein Celtic (@Bloem_Celtic) February 13, 2018