Cape Town City
EXTRA TIME: Stuart Baxter talks to Benni McCarthy about Bafana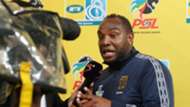 Bafana Bafana legend Benni McCarthy once played under Stuart Baxter during the coach's first stint with the national team.
Now McCarthy is also a coach, still at his first club in charge, Cape Town City.
The City official Twitter tells us that Baxter, McCarthy and Citizens boss John Comitis were discussing the future of South African football.
That doesn't stop the fans from captioning the photograph below.
Comitis, McCarthy, and Baxter discuss the future of South African football...

Who said what? 🇿🇦 pic.twitter.com/VksWGQ7EYk

— Cape Town City FC (@CapeTownCityFC) February 6, 2019
BAXTER: "Were can one find a good striker that can score goals consistently in this country John?"

COMITIS: "Hey Bax, don't even think about asking my coach Benni to come out of retirement to save Bafana, he's got a job here City"

BENNI: "But coach Bax, you have Gabuza 😂"

— uNyambose (@BaloKaMthethwa) February 6, 2019
Baxter came to ask McCarthy how does he do it??

— Lufefe Mqamelo (@bhariYaseKasi) February 6, 2019
That's Good Bennie is our future Bafana coach but for now his happy a the citizens coach and come next year confederations cup if not the Championships League.. I'm saying that because I'm positive and I believe, "If not me then who" ? #Yeswecan

— 031yaya (@Ayah_zn) February 6, 2019
I think Baxter came to request an assistant coach position from Benni he wants to work under the Legend Benni

— Sabelo Mvubu (@Masabisa_S1) February 6, 2019
John telling Stuart, "listen here, we all know Benni can do a better job than you, so be thankful that he isn't available"

— socrates georgiades (@djsox13) February 6, 2019