WTF
EXTRA TIME: South African football reacts to Ahmed Kathrada passing away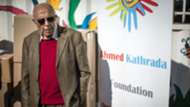 Ahmed Kathrada's foundation has confirmed that his funeral is set for Westpark cemetery on Wednesday.
Former foundation president Kgalema Motlanthe will address the public during the ceremony from 10:00 in the morning.
Kathrada was a close friend and fellow anti-aparheid stalwart with the late Nelson Mandela, former SA president.
"We are deeply saddened to learn this morning of the passing on of our dear friend and founding trustee, Ahmed Kathrada," read a statement by the Nelson Mandela Foundation.
Another stalwart and Robben Island prison mate, Sophie Williams-de Bruyn will also talk to the public during the funeral.
Prayers will begin at the mosque from 11:30am. 
The opportunities we have are paved for by the sacrifices of so many. We thank them. RIP to those we have lost. pic.twitter.com/OoaCpdZLP4

— Hlompho Kekana (@Hlompho_Kekana) March 28, 2017
To Ntate #AhmedKathrada , your life was spent in the fight for our freedom. May your soul rest in revolutionary peace #RIP pic.twitter.com/CmaFBcxD5Y

— RSA Min of Sport (@MbalulaFikile) March 28, 2017
My final assignment with Uncle Kathy was 13 Dec 2014, "Walk 4 Mandela" inner streets of Pretoria. #AhmedKathrada
RIP pic.twitter.com/KvCBJmmbmr

— robertmarawa (@robertmarawa) March 28, 2017
Yup pic.twitter.com/WP6I6eXgsl

— Neal Collins (@nealcol) March 28, 2017
. @Bloem_Celtic le Masele send their deepest condolences to the #AhmedKathrada family. "We share your loss. May his soul Rest In Peace". pic.twitter.com/HwXah35lDY

— Bloemfontein Celtic (@Bloem_Celtic) March 28, 2017
The South African Football Association released the following statement:
Safa President, Dr Danny Jordaan has described the late liberation struggle icon Ahmed Kathrada as a selfless cadre who was kind to people from all walks of life and was a very measured human being.
Kathrada who remained politically active until his dying days, passed away in the early hours of Tuesday and President Jacob Zuma has requested national flag to fly at half mast in honour of struggle hero. He was 87.
"The giant has passed away, Ahmed Kathrada was a great man, humble and very measured in whatever he did," said Dr Jordaan, a former ANC legislator as the dawn of the new dispensation. "He was a hard worker, honesty and I remember him spending time with the late Father of the Nation, Nelson Mandela during his last days.
"He is the last of the generation, together with Andrew Mlangeni and Dennis Goldberg that fought for the liberation of the country. The three were the last surviving members of the Rivonia trial," added Dr Jordaan.
Mlangeni and Goldberg are now the only surviving duo of the Rivonia Trial which took place between 1963 and 1964 and which led to the imprisonment of Nelson Mandela. 
The Safa President recalled an intensive Robben Island tour Kathrada took with the SAFA Congress members in 2015 in Cape Town.
"He didn't take a bus on that extensive tour but walked and explained in detail how life was at the famous Island. We are shattered by his death but Kathrada will be remembered for his role in creating a new and vibrant South Africa. May his soul rest in peace," concluded Dr Jordaan.