Liverpool v Bayern München
EXTRA TIME: South African fans react after goalless Champions League night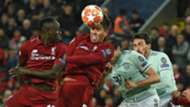 One of the most common predictions by pundits is that there will be goals when Bayern Munich visited Liverpool at Anfield in the Uefa Champions League.
Instead both clubs hardly took a shot at anger at the opposing keepers. The Bundesliga giants were happy to sit back and soak up the pressure in this 0-0 encounter.
Bayern's plan was to take this game to Munich, knowing that victory at home will move them into the quarter-finals.
For the home side at Anfield, the Reds were guilt of losing possession in the final third on many occasions. Whenever they were outnumbering the opposition in attack, they often made the wrong choice. Sometimes they did get through into the box, with the likes of Senegal star Sadio Mane wasting a few good opportunities.
This game caught the bulk of attention on South African Twitter, as you can see below. One would expect there would at least be a goal by Barcelona or home side Lyon in the other game, but both those sides failed to break the deadlock too.
Lyon and Liverpool go into their second leg games, hoping to get an away goal and place the pressure on Barcelona and Bayern respectively.
So James Rodriguez sold us dreams at the 2014 World Cup??

— 🖤 (@LitSego) February 19, 2019
Liverpool or Bayern Munich? #Chooseday

— STHEBE (@sthebeworldwide) February 19, 2019
Liverpool FC:

Five time European Champions.

FC Bayern München:

Five time European Champions.

Who will reign supreme at Anfield tonight?

— Smangaliso Mdluli (@SimangalisoMdl2) February 19, 2019
🕴waited for goals from England and France but dololo😡😡😡

— Marks Maponyane (@MarksMaponyane) February 19, 2019
Liverpool's poor decision making (not the first time) can be summed up by when Gini Wijnaldum could've released Mo Salah through on goal, instead he chose to spin around 180 degrees to fool the defenders and ended up seeing two new defenders blocking Salah. Not intelligent @LFC

— Ignat Football (@IgnatFootball) February 19, 2019
Great display of football from Liverpool tonight. Clear indication of who's home,dictating terms&have been all over Bayern like a sore rash. Keïta, Henderson, excellent match &Fabinho in the absence of van Dijk has really put in a good shift . Was hoping 4Liverpool win actually

— Amanda toki Dlamini (@Amanda_Dlamini9) February 19, 2019
Lyon 0-0 Barcelona FT

Liverpool 0-0 Bayern Munich FT#UCL

— robertmarawa (@robertmarawa) February 19, 2019
Liverpool are one of the best high pressing and counter pressing teams in Europe..

— Mark Mayambela (@ProfMayambela12) February 19, 2019
Bathong, Frank is still here? Yhuu 💀

— 🖤 (@LitSego) February 19, 2019
This bug often happens when you're the strong favourite to win, & there's a niggling feeling you should score in style instead of just score, thus many top teams have fallen this way. Indecision needs to stop in midfield & the back. Then the play will be smoother @LFC at Anfield

— Ignat Football (@IgnatFootball) February 19, 2019
This is fast & Furious 💨 #LIVBAY

— James keene (@JamesKeene28) February 19, 2019