Percy Tau
EXTRA TIME: Percy Tau finds himself in the 500 most important players in the world list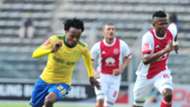 Well, El Hadji Diouf recently stated that Tau is even better than Sadio Mane. Many fans laughed at that suggestion from the Senegal legend.
However it is coming from a former player who knows Senegal football, but maybe he doesn't watch enough of his former club, Liverpool.
Either way, Tau should make the top 500 list. It's not so difficult when you already got famous fans. Though, the Sundowns star is ecstatic to see himself in here on Page 64.
Page 64 pic.twitter.com/e76LM6CCME

— Percy Tau (@percymuzitau22) May 2, 2018
Percy TAU (23) is the best player in South Africa 🇿🇦 right now! 

Proof is in the stats 

32 games
 13 goals
 16 assists
 Led the 🇿🇦 PSL in goals & assists
 Led #Sundowns to the PSL title
 2nd in assists in worldwide first divisions

Who should sign him? pic.twitter.com/2MX33rZlEI

— The Football Future (@footballfutur) May 3, 2018