Africa Women Cup of Nations
EXTRA TIME: Banyana squad ready for Awcon preparations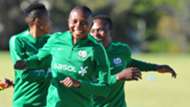 The premier African Women's football showpiece will be used as a 2019 FIFA Women World Cup qualifier – the top three nations in Ghana will represent the continent at the World Cup in France in June.
Ellis has selected the bulk of the squad that has been with Banyana Banyana for a long period of time.
The squad also boasts a lot of experience with most of the players having taken part in the Awcon before.
Ellis has also called up two uncapped players – Amanda Mthandi (University of Johannesburg) and Tiisetso Makhubela (Mamelodi Sundowns Ladies).
Here's how the announcement of the Banyana Banyana squad was showcased on Twitter on Wednesday.
You can also find a training video and a few highlights from the past that occurred on this day.
This is how we do it! Ladies and gentlemen meet the goalkeeper of @Banyana_Banyana @Kaylin194 @SAFA_net @SasolLeague @SasolSA #limitless #awcon2018 pic.twitter.com/UHj0lHCxrg

— Banyana_Banyana (@Banyana_Banyana) November 6, 2018
Congrats to our #jvwfc players @minimbuzi18 @jermaine109 and @MamelloMakhaba1 who have been named in the 21-player @Banyana_Banyana #AWCON squad as well as our founder @Janinevanwyk5   https://t.co/3LFiF0daDF

— JVW Girls Football (@JVWGirlsFootbal) November 7, 2018
Your team for the #AWCON2018 pic.twitter.com/jOlUNOlAAK

— Official SasolLeague (@SasolLeague) November 7, 2018
Experienced @Banyana_Banyana 🇿🇦defender @Nokomatlou11 has featured in 5⃣ @CAF_AWCON (2008🇬🇶, 2010🇿🇦,2012🇬🇶,2014🇳🇦& 2016🇨🇲). First and only South African to be named @CAF_Online Women's Player of the Year in 2008.
2008 
2010 
2012
2014 4⃣th
2016 4⃣th pic.twitter.com/89t7Tq9eZs

— Total Women's Africa Cup of Nations (@CAF_AWCON) November 6, 2018
So @Banyana_Banyana will get a R840 000 participation fee for the Women's Afcon. They will get R120 000 each should they win the tournament. It could also get as high up as R160 000 in bonuses (which are performance based) depending on how they do on the way to the final. pic.twitter.com/yLBGTPGDnr

— PowerSport (@Power987Sport) November 7, 2018
Congratulations to the @Banyana_Banyana players that have made the FINAL squad to represent 🇿🇦 at the @CAF_AWCON . I'd like to also take the opportunity to THANK @SasolSA for continuously recognizing our achievements as players. pic.twitter.com/gHniJPz3fX

— Janine Van Wyk (@Janinevanwyk5) November 7, 2018
2018 @CAF_AWCON squad announcement underway at SAFA House @SAFA_net pic.twitter.com/WlUJDylsA1

— Banyana_Banyana (@Banyana_Banyana) November 7, 2018
#OnThisDay in 2012, @Janinevanwyk5 scored an all-time important goal for the @SasolSA sponsored Banyana Banyana led by former captain @Amanda_Dlamini9 as South Africa walked away with a 1-0 win over Nigeria in the African Women Championship semi-final clash

[: @fishmahlangu ] pic.twitter.com/Tar3fDjeBI

— IG: sportsmvt (@sports_mvt) November 7, 2018
@Banyana_Banyana 21 players to represent South Africa in the @CAF_AWCON @SAFA_net pic.twitter.com/XpxgPBFRe3

— Banyana_Banyana (@Banyana_Banyana) November 7, 2018
On this day in 2012, @Banyana_Banyana 🇿🇦shocked @NGSuper_Falcons 🇳🇬with a 1-0 win in the semis of 2012 @CAF_AWCON in Malabo🇬🇶. Captain @Janinevanwyk5 scored for South Africa. @Banyana_Banyana lost 4-0 to host
Equatorial Guinea🇬🇶 in the final. #TotalAWCON18 #CelebrateAfrica pic.twitter.com/96BvgUADRR

— Total Women's Africa Cup of Nations (@CAF_AWCON) November 7, 2018