Africa U20 Cup of Nations
EXTRA TIME: Amajita yet to convince critics despite World Cup qualification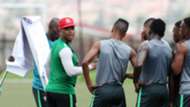 Amajita's U20 Africa Cup of Nations hopes ended in the semi-finals when they were knocked out 1-0 by Senegal in Niger on Wednesday.
South Africa was very optimistic about their U20 Afcon chances when they qualified for the World Cup. Their qualification was confirmed after finishing second in a group that contained Burundi, Niger and Nigeria.
Many soccer fans got their hopes very high after this achievement and were bitterly disappointed with Amajita's performance against Senegal.
The South Africa U20 team had been basking in the limelight of all the support and good wishes earlier in the week, but after their defeat to Senegal there's also been a wave of criticism.
One can get a taste of the fans feelings on social media by going through their Tweets, many of which were not impressed with an Amajita team that only beat Burundi in the competition.
There are fans who are not optimistic about South Africa's chances in the World Cup, but many are also realistic and supportive of the fact that Amajita's already excelled by qualifying for the world tournament.
Amajita head coach Thabo Senong and captain Khulekani Kubheka at this morning's pre-match press conference at the Seyni Kouche Stadium. They play Nigeria in their #TOTALAFCONU20 3rd/4th playoff match tomorrow in the very same venue. Kick-off is at 17H30 (SA time) @CAF_Online pic.twitter.com/0LJ5aYUhfb

— SAFA.net (@SAFA_net) February 15, 2019
Amajita a waste of time.

— Oratile (@ora_tiwee) February 13, 2019
Amajita tactically disciplined at the back.
I know coach @FaroukKhan9 does not appreciate this type of football on display...but imagine with Foster, Mathews, Groeneveld, Cross, Bartlett, Thethani, Mdlalose adding to the 2019 FIFA u/20 WC squad!🙈#TotalAFCONU20 @robertmarawa

— Lebo Jood (@TheMostBohalest) February 13, 2019
What a missed chance by #Amajita 🙆🏾‍♂️🙆🏾‍♂️🙆🏾‍♂️🙆🏾‍♂️🙆🏾‍♂️🙆🏾‍♂️

— Pro Philani Ndlela (@prophilani) February 13, 2019
Amajita performance has been awful through out the tournament. #TotalAFCONU20

— RaoRao🔥🇿🇦 (@raofanamethe) February 13, 2019
I honestly tried to watch the Amajita game

— Ainsley Maitland Niles (@mphumzi_jerry) February 13, 2019
Amajita are so poor 😥😫 #TotalAFCONU20 @SAFA_net

— Versace Sensei (@MousseOFreshe) February 13, 2019
To be quite honest, I don't see what #Amajita are playing but they are playing Skop en Donor#Under20Afcon

— Dumizulu Ka Nkwanyana (@FrankNkwanyane) February 13, 2019
Amajita about to have their regeneration and conditioning session at Seyni Kouche Stadium's training grounds in Niamey, Niger this morning. @CAF_Online @BurgerKingZA #TOTALAFCONU20 pic.twitter.com/kiovY2a3nW

— SAFA.net (@SAFA_net) February 14, 2019
Honestly even Bafana Bafana doesn't play that badly like Amajita.All their four games were horrible and I refuse to believe that this is the best U20 South Africa can offer.Thabo Senong better tell us who selected those players.

— Sundowns Fanatic 🌟 (@Madumetja_SoLo) February 14, 2019
I love it when amajita aren't allowing themselves to get finessed 😂

— |DANK X BOOMBAP| (@Zani_Maboneng) February 14, 2019
Amajita may have missed out on a U20 Africa Cup of Nations final berth, but they have done the nation proud. https://t.co/PhODGIxrri pic.twitter.com/5K6YNfd0DM

— Goal South Africa (@GoalcomSA) February 14, 2019
Amajita's reported over-reliance on Lyle Foster is very worrying. He was not in Niger and it showed. I'm sure there's schoolboy who's banging goals but no one knows about him because of poor scouting.

— Richardson Mzaidume (@hlubizer) February 14, 2019
Amajita played the worst football yesterday yeses, I'm so tied of Thabo Senong's negative tactics. Please @SAFA_net let's give another coach a chance🙆🏿‍♂️🤦🏿‍♂️

— #leVibe (@MaEzeeDoesIt) February 14, 2019
I have never seen such negative foot in my life, it's their setpiece but you'll get just 3 players in the opposition box with 7 defenders. Those boys play nonsense football, they have been lucky. Even in that world cup they just adding numbers #Amajita

— Ntate Moeletsi (@Ke_Moeletsi) February 14, 2019