Paul Pogba
'Excellent' Pogba will get better and better, says France team-mate Lloris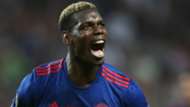 Hugo Lloris believes Manchester United and France midfielder Paul Pogba will only get better, and went some way to proving his worth with an "excellent" display against England.
Huge Lloris error costs France
Pogba struggled to live up to expectations following a record-breaking £89 million transfer from Juventus last summer. 
The 24-year-old started 49 games for United across all competitions last season, scoring nine goals, and eventually overturned opinion at Old Trafford following a slow start to the campaign. 
Pogba's international team-mate Hugo Lloris, also of Tottenham, has also been impressed with Pogba, with the midfielder's display in Les Bleus' 3-2 victory over England last week particularly pleasing.
The goalkeeper believes the former Juventus star will ultimately grow into the player he has the potential to be and repay the substantial transfer fee forked out by United to bring him back to Manchester. 
"Maybe he had some things to prove, because he belongs to one of the best clubs in the world and he plays in the Premier League, and he has to show his level," Lloris told the Telegraph. "Against England, he was fantastic and as a midfielder he helped the team a lot to manage the ball.
"I have no doubt that he will get better and better."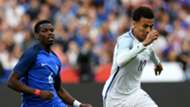 A number of Lloris and Pogba's France team-mates have been linked with a move to the Premier League this summer, including Monaco pair Thomas Lemar and Kylian Mbappe, something which doesn't surprise the Spurs shot-stopper.
"The Premier League is very exciting," Lloris added. "All the Premier League clubs have the capacity and the ability to sign the best players in the world.
Man Utd sign Lindelof for £40m
"In France we used to have a lot of talented players and it's true that the new generation are fantastic, but we need to give them time to get the right maturity.
"But, as they showed this week, they are ready to compete at the best level. Let's see what will happen in the Premier League."